Focke-Wulf Fw 190 A-7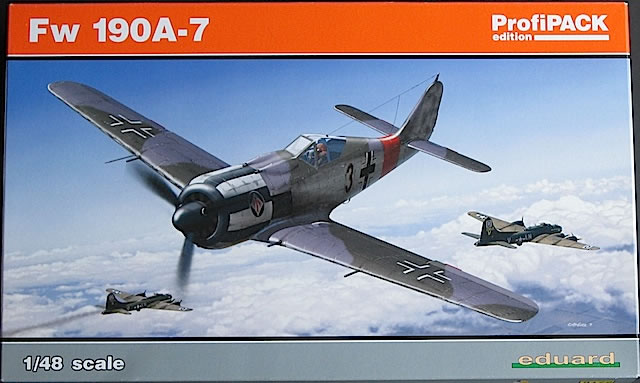 Eduard, 1/48 scale
S u m m a r y :

Catalogue Number:

Eduard kit no.8172 – Fw 190 A-7 Profipack

Scale

1/48

Contents and Media

Approximately 170 olive coloured plastic parts; 11 clear plastic parts; 1 decal sheet containing markings for 4 aircraft; 1 decal sheet containing sufficient stencils for at least 1, possibly 2 aircraft

Price

USD$39.95 plus shipping available online from Eduard's website

and specialist hobby retailers worldwide

Review Type

First Look

Advantages

An accurate 1/48 Fw 190 A-7; high-quality plastic; comprehensive overall package

Disadvantages

Conclusion

Modelers can now have a 1/48 A-7 in their collection without any filling, sanding, re-scribing, or kitbashing.

Reviewed by Brad Fallen


Eduard's 1/48 scale Fw 190 A-7 is available online from Squadron.com



Built in comparatively low numbers from late 1943 to early 1944 – probably no more than 700-800 were produced – the Focke-Wulf Fw 190 A-7 introduced many of the improvements that would be refined on the later, more numerous A-8. The most obvious of these was the replacement of the two fuselage-mounted MG 17 machine guns – standard weaponry on earlier 190s – with more powerful and faster firing MG 131s. The bulged armament panel required to cover the new guns is an immediate identifying feature for A-7 and subsequent A, F, and some D series aircraft.

To improve their survivability in close-range attacks against Allied heavy bombers, some A-7s were also fitted with additional armour around the canopy and cockpit, foreshadowing the Fw 190 A-8/R2 Sturmbocks of later in 1944.

But the A-7 also had much in common with its predecessor, the A-6, particularly in terms of airframe construction and details. This mix of early and late features makes the A-7 a tricky subject for model companies to get right. There is a strong temptation to take the easy way out, as I understand Hasegawa has done in 1/48, by combining superficially similar Fw 190 A-8 mouldings with A-7 decals and badging the result as an 'A-7'. Dragon also released a 1/48 A-7 about five years ago, but I haven't been able to discover any information on the accuracy or otherwise of this kit.

For modelers committed to an accurate 1/48 Fw 190 A-7, the best solution has until recently been to convert an A-8 kit. The necessary steps are fairly straightforward, and were outlined by Brett Green in his original 2006 review of Eduard's A-8 kit
Eduard's subsequent release of almost the entire Fw 190 A family has removed the need even for this simple conversion, with an A-7 readily cross-kitted from the A-6 and A-8 kits.

Eduard released a dedicated A-7/R-11 in 2009 as part of its Night Fighters Dual Combo boxing. It has taken a little longer for Eduard to release the A-7 as a stand-alone kit, but the wait has been worth it.


Eduard's packaging of the kit makes an immediate impression, with the cover picture of a lone A-7 overflying two B-17s one of the best examples of box art I have seen in a long time. Inside the box is Eduard's usual comprehensive Profipack offering of plastic, paint masks, photo-etch, decal sheets, detailed instructions, full-colour four view painting and marking guide, and grey-scale four view stenciling guide.

There is not much that hasn't already been written about Eduard's Fw 190 A plastic. There are no new sprues in this kit – all have been released previously in various boxings. The quality of the plastic remains as high as ever, with minimal flash and – the result of excellent packaging – no transit damage. Eduard's use of common sprues for its 190 A series means that, as usual, many parts included in the kit will not be used for this version, and so head straight to the spares box.
Also as usual, Eduard includes both painted and unpainted photo-etched parts for adding additional detail to the kit plastic. While I'm a big fan of the pre-painted etch, on this occasion Eduard's quality control wasn't quite up to scratch, with a number of coloured instrument bezels clearly out of register. Without correction, I suspect this misprint will be apparent in the finished model, notwithstanding how far the Fw 190's instrument panel was tucked away under the cockpit coaming.

The unpainted fret is notable because it contains half-a-dozen parts that will enable modelers to reproduce the canopy and fuselage armour of a Sturmbock-style A-7 (kit marking option D). Additional parts required to depict this version are included on the clear sprue. I suspect that these parts will require careful application to achieve a convincing effect, particularly the four large etched pieces which will need to be attached to the fuselage with either superglue or epoxy. Eduard avoided this problem with its A-8/R2 kits by moulding the armour in place, but given the limited use of fuselage armour on earlier 190 As, I can understand the compromise approach taken with this kit.



An alternative to using the photo-etched armour would be to cut the armour from sheet plastic, using the photo-etch as a template. This would allow the use of liquid polystyrene cement to attach the parts to the fuselage, which would likely deliver a more robust join than could be achieved with photo-etch. For an example of how to use plastic sheet to simulate armour plate, see Brett Green and Chris Wauchop's excellent build conversion of Hasegawa's 1/32 Fw 190 A-8 into an armoured A-7.
http://hsfeatures.com/features04/fw190a7cw_1.htm

Eduard's Fw 190 A series has a reputation for being challenging to build if the kit instructions are not followed to the letter, and I imagine this A-7 kit will be no different. Brett's original A-8 review also contains some useful tips for ensuring a trouble-free build.

In terms of building up as an accurate A-7, the kit appears to be spot-on. This is where Eduard's policy of moulding version-specific wing and fuselage parts pays off, rather than asking modelers to fill and re-scribe, or fiddle with tricky inserts. By utilizing the fuselage and upper wing sprue A introduced in the A-5 kit, the lower wing sprue F included as an option in the A-6 kit, and the cowling/gun cover/miscellaneous sprue H from the A-6, A-8 and F-8 kits, Eduard delivers all the parts required for a 'correct' A-7. However, given the variations between nominally identical aircraft – many A-7s were built from refurbished airframes, and field modifications were also common – modelers should check their references carefully in relation to their chosen subject.
---


Marking Options
Marking options for four interesting Fw 190 A-7s are included in the kit, all finished in variations of the Luftwaffe's mid-war fighter scheme of RLM 74 Grey Green and RLM Grey Violet over RLM 76 Light Blue:
Black and Red 3/W.Nr.430352 of 2./JG 1, based at Dortmund, Germany, January 1944. The aircraft depicted on the box art, its black and white striped nose, yellow under-cowl and red fuselage band make it about as colourful as mid-war German fighters get. However, I would probably paint the nose stripes, rather than use the decals provided by Eduard.

Brown 4/W.Nr.340001 flown by Oberleutnant Waldemar Radener, CO of 7./JG 26, based at Cambrai-Sud, France, May 1944.

Red 13/W.Nr.431007 flown by Major Heinz Bär, CO of II./JG 1, based at Stormede, Germany, April 1944.

White 20/W.Nr.642962 flown by Major Hans-Günther von Kornatzki, CO of Sturmstaffel 1, based at Salzwedel, Germany, February 1944. Again, I would be tempted to paint the fuselage bands rather than use the decal provided, although the two very thin white outer bands means that this approach will require some careful masking.

Eduard's painting and marking suggestions compare very well with photographs I have found of each of the subject aircraft, with the caveat that interpreting 70-year old black and white images is not always straightforward.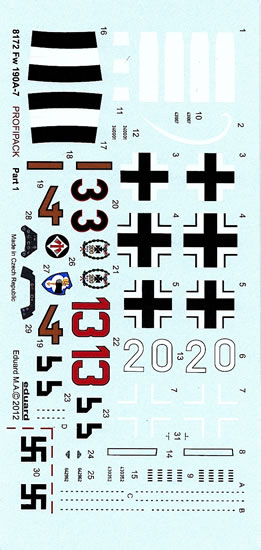 Two decal sheets are provided, one containing national, unit and individual aircraft markings, and the other a comprehensive set of stenciling options. Both appear to be Eduard's own decals, the quality of which continues to improve. Printing is crisp, the colours are good and I could not find a production flaw on either sheet.
Nearly six years since the release of its first 1/48 A-8 kit, Eduard continues to work through the list of radial-engined Fw 190 variants.
This kit of the A-7 fills an important gap in this list, because until now the type has been under-represented – at best – in 1/48 scale. Modelers can now have an accurate A-7 without having to do any filling, sanding, re-scribing, or kitbashing, which has to be a good thing. Expect to see more of this kit from Eduard, starting with a Weekend Edition in the near future.
Further down the track, hopefully we'll also see some more 190 variants as well – anyone for an A-9? Or perhaps a G series?
Thanks to Eduard for the sample
---

Review Text & Images Copyright © 2012 by Brad Fallen
Page Created 21 June, 2012
Last updated 21 June, 2012
Back to HyperScale Main Page
Back to Reviews Page