Heinkel He 70
"Blitz" over Spain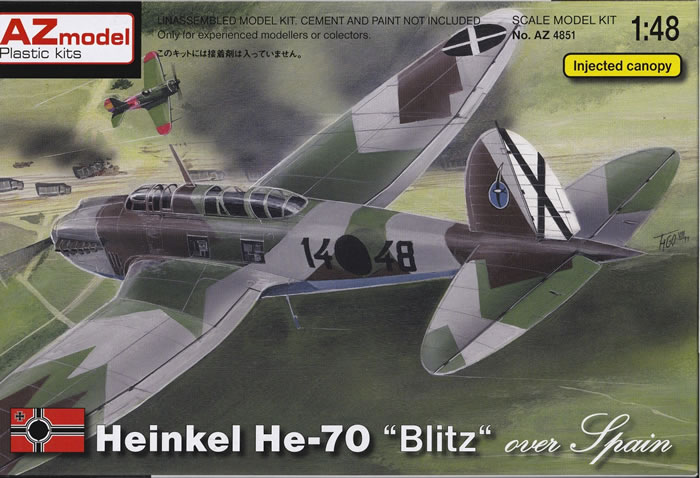 A.Z. Model, 1/48 scale
| | |
| --- | --- |
| Catalogue Number: | A.Z. Model kit no. AZ 4851 – Heinkel He 70 "Blitz" over Spain |
| Scale | 1/48 |
| Contents and Media | Approximately 70 grey plastic pieces; 7 x clear plastic pieces; 1 x decal sheet containing markings for two aircraft; 1 x 4 page A6 instruction leaflet; full colour marking guide on bottom of kit box |
| Price | |
| Review Type | First Look |
| Advantages | It's an injection-moulded 1/48 He 70! |
| Disadvantages | Expensive, particularly given the lack of detailing items included in the kit |
| Conclusion | A challenging kit which is really only suitable for experienced modelers. However, the kit looks great when built up, and is the only show in town if you want a 1/48 He 70. |
Reviewed by

Brad Fallen

HyperScale is proudly sponsored by Squadron.com


The Heinkel He 70 was an important transitional aircraft of the 1930s, pioneering new technologies and breaking a number of records before being surpassed by more advanced designs. The He 70's success encouraged its designers, twins Siegfried and Walter Günter, to incorporate key features of the aircraft such as elliptical wings and a streamlined, rounded fuselage into later creations such as the He 112, Heinkel's unsuccessful competitor to the Messerschmitt Bf 109. The similarity is most apparent in the Heinkel He 111, which as well as being one of the Luftwaffe's major bombers was, to a considerable degree, a beefed-up He 70.

The He 70's heyday was brief: it first flew in December 1932, entered service with Lufthansa as a mail and passenger aircraft in 1933 and 1934 respectively, and was retired from the airline by 1938.

Its military service was longer, but largely undistinguished. Serving with the Luftwaffe from 1934 until the early 1940s, the He 70 was used with limited success as a light bomber, reconnaissance platform and general purpose hack. 18 up-engined machines re-designated as He 170s were exported to Hungary in the late 1930s, but they proved so unsuited to combat that they were withdrawn from front-line service in July 1941, barely a month after the war in the east began.

A slightly larger number of He 70s – close to 30 – flew with the Legion Condor in Spain, where the survivors remained after the end of the civil war and were kept operating for as long as possible. Almost amazingly, the last Spanish He 70s were not retired until 1956 – outlasting their former Republican adversary, the Polikarpov I-16, in Franco's service by three years.
The He 70 in kit form

For such a groundbreaking and attractive aircraft, the He 70 has been patchily represented in kit form. A number of 1/72 kits have been produced by companies including WK Models, Matchbox, and ICM, with the ICM kit the pick of the bunch. The situation in 1/48 has been more grim: my research suggests that A.Z. Model's new He 70 kit is the first ever offering in this scale, although it's possible I've missed an older vacform or resin kit that is no longer easily found. Likewise, it appears that the He 70 has never been kitted in 1/32 scale.
A.Z. Model is a prolific Czech manufacturer of limited run 1/144, 1/72 and 1/48 aircraft kits, always of interesting subjects but a bit hit-and-miss in terms of presentation and sometimes, accuracy. Recent hits include the 1/72 Spitfire family, while the 1/48 Kawasaki Ki-48 'Lily' and Vultee Vengeance kits have attracted some controversy. A.Z. Model has also provided welcome re-boxings of some out-of-production Grand Phoenix kits, such as the Fairey Firefly Mk.I and F3H-2M Demon.

A.Z. Model's new Heinkel He 70 comes in a lightly constructed top opening box featuring reasonable, but not spectacular, artwork of one of the kit's marking options overflying burning vehicles and being paid close attention by a Spanish Republican I-16. The bottom of the box doubles as a marking guide, with clearly printed, full colour four-view drawings of the kit's two options – more on these shortly.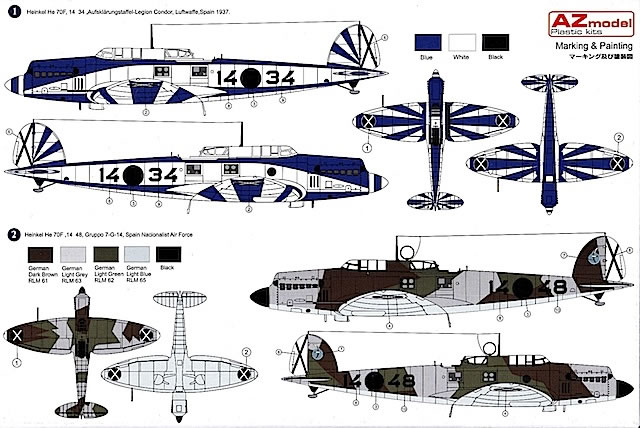 This is an all-plastic kit moulded in medium grey and clear. The grey parts are typical limited run plastic, with chunky sprue gates, prominent ejection pin towers, and plenty of flash. Some of the smaller parts are particularly encrusted with flash and will require careful cleanup. So will some of the ejection pins in difficult to access places such as the wheel wells and seat pans. The engraved panel lines are generally fine and consistent, but there are several places where they have been damaged by what appear to be mould flaws.


The clear parts have been thoughtfully bagged separately from the other sprues. They are reasonably but not perfectly clear, and would benefit from a rinse in Future.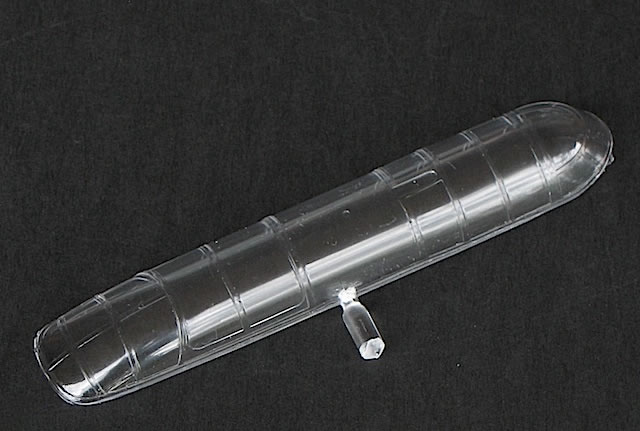 Overall, the mouldings appear to be sufficiently good that, with care, an impressive but basic 1/48 He 70 can be built.



I say 'basic' because with most limited run kits, the trade-off for slightly rough plastic parts is usually a high quality resin or etch detailing set, or a combination of the two. That is not the case with this kit – the plastic is all you get, unless you decide to invest in A.Z. Model's separately available, soon-to-be released etched detailing set. Images of the set's instructions on the Hannants website suggest it will be produced by Eduard, so the quality should be good – but it would have been nice for it to be included in the kit itself, given the latter's already high asking price.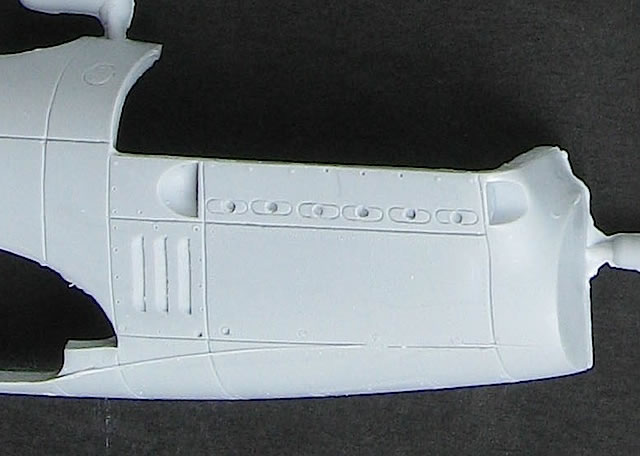 The absence of adequate details in the kit is compounded, in my view, by the fact that they are not an optional extra, as is the case with modern Eduard kits, where modelers who don't feel comfortable using etch are provided with alternative, sufficiently detailed plastic parts to complete a nicely detailed model. Not so here: the kit-supplied cockpit interior, for example, will look pretty rudimentary unless you either buy the dedicated detailing set or do some serious scratch building.

Even if you give the extra detailing a miss, you will still need to do some serious modeling to get this kit together and looking good. I have only been able to find one finished example of this kit on line, over on Aeroscale that, while a great model, clearly took considerable effort to finish as such.
Looking at the kit, I suspect that the interior-to-fuselage fit will be challenging, as will be getting rid of all those pesky ejection pin marks. But the main difficulty, I think, will be the wing-to-fuselage join, which even a simple test fit indicates will require significant fettling and shaping, particularly along the upper join where the mating contours of each part are quite different.

Assembly will not be made any easier by the small and basic instruction leaflet. The assembly sequence is explained through 16 exploded diagram steps (of which only the first eight are numbered). The only text is a brief warning about the requirement to test fit and adjust the above-mentioned wing-to-fuselage join; no other information about the build sequence, or indeed the aircraft itself, is supplied. Interior and other colour callouts are however provided, which is welcome.

As for accuracy, the kit seems reasonably good. I could only find one photograph of the cockpit, where the dial placement on the instrument panel matched almost exactly that of the kit panel. Reference photos also suggest that A.Z. Model has done well to capture the subtly contoured cowlings around the BMW engine, although the parts breakdown means there will be some tricky seams for the modeler to tackle at the front of this area, just above the propeller. The overall shape of the fuselage and wings looks right as well, although I haven't got any plans against which to compare them. Doubtless, there will be some discrepancies from the real thing – but when assembled the model will look like an He 70 and nothing else, and is the only game in town if you want one in 1/48 scale.
---
Colours & Markings
Markings are provided for two He 70 Fs – the Luftwaffe's dedicated reconnaissance variant – that served in Spain:
14-34 of the Legion Condor's Aufsklarungstaffel (reconnaissance squadron), 1937. This well known aircraft was finished in a spectacular blue-and-white sunburst pattern on all surfaces. I have only been able to find one photograph of 14-34, taken from the starboard rear quarter, but on the basis of what I can see, A.Z. Model's marking guide for this aircraft appear to be accurate.

14-48 of Gruppo 7-G-14, Spanish Nationalist Air Force, date not provided. This more subdued aircraft was painted in the Luftwaffe's pre-war tricolour splinter scheme of RLM 61 Dark Brown, RLM 62 Green and RLM 63 Light Grey over RLM 65 Light Blue. Again, I have only been able to find one photo of 14-48, this time taken from the port rear, but also again, A.Z. Model's interpretation of paint scheme and markings appears to be accurate.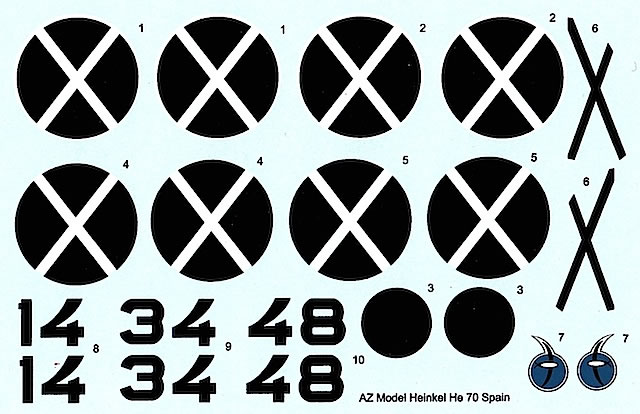 The decals look very good. They have been printed crisply, and the Nationalist insignia and aircraft code letters have been accurately depicted – except for the bottom of the '3' on 14-34, which according to my reference photo doesn't quite curve up enough at the end on the decals.
This is a tricky model to sum up. Its high-ish price and limited run nature means that it is really only suited to experienced modelers who want a 1/48 He 70 in their collection. There is nothing wrong with this: limited run models of esoteric subjects are always going to be less finely engineered, and more expensive, than mass-produced kits of more popular or well-known aircraft. But the lack of any detailing parts in the kit, and the added cost of buying them separately, is annoying given that most other limited run manufacturers include at least some of these items with the base kit. Again, it comes down to what you want and can afford. As you can see from the build on Aeroscale, a very nice looking model can be created from this kit, if you take your time and apply some basic modeling skills. And as I said earlier – it's an injection-moulded He 70 in 1/48 scale, which in my mind makes up for a whole lot of shortcomings.

Highly recommended to experienced modelers who know what they are letting themselves in for.
Thanks to AZ Model for these review samples.
---
Review Text & Images Copyright © 2012 by Brad Fallen
Page Created 11 June, 2012
Last updated 11 June, 2012
Back to HyperScale Main Page