Romanian Messerschmitt
Bf 109 E Part 1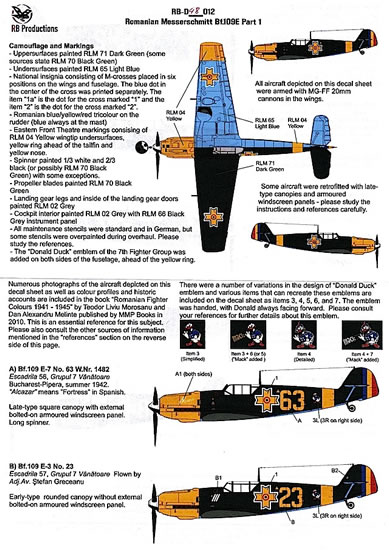 RB Productions, 1/48 scale
(also 1/72 and 1/32 scales)
S u m m a r y :

Catalogue Number and Description:

RB Productions Item No. RB-D48012 - Romanian Messerschmitt Bf 109 E Part 1

Scale:

1/48

Contents and Media:

1 x sheet of waterslide decals with markings for seven aircraft; 1 x A4 double sided full colour instruction leaflet

Price:

Review Type:

First Look

Advantages:

Excellent subjects; accurate and well-printed decals; very good instruction sheet.

Disadvantages:

A little more information on the correct national insignia decal to use on the upper and lower wings would be useful.

Conclusion:

A comprehensive and well-produced decal package that will help modelers achieve a very accurate Romanian Emil.
Reviewed by Brad Fallen

HyperScale is proudly supported by Sq
uadron.com


The latest decal release from RB Productions continues Radu Brinzan's very welcome efforts to make Romanian military aviation subjects more accessible to modelers. The release, tantalizingly entitled "Part 1", features seven of the approximately 65 Messerschmitt Bf 109 E aircraft operated by Romania between 1940 and (at least) 1943.

The subject aircraft are all extremely colourful, with their base RLM 71 Dark Green and RLM 65 Light Blue camouflage highlighted by RLM 04 Yellow cowlings, fuselage bands and lower wing tips, black and white or yellow spinners, yellow/red/white/blue national insignia and customized Donald Duck emblems. Most of the aircraft also carried names in cursive script on one or both sides of their cowlings or fuselage.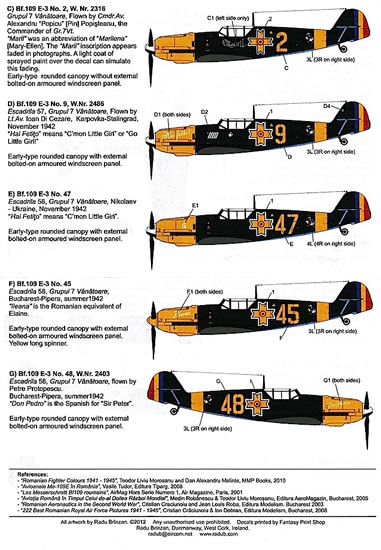 Individual aircraft details are as follows:
Bf 109 E-7, No.63/"Alcazar", W.Nr. 1482 of Escadrila 56, Grupul 7 Vân?toare based at Bucharest-Pipera, Summer 1942. This appears to be one of the final batch of 15 refurbished Bf 109 E-7s provided by Germany in mid-1942, to supplement Romania's dwindling number of E-3s.

Bf 109 E-3, No.23, flown by Adj. Av. ?tefan Greceanu of Escadrila 57, Grupul 7 Vân?toare, location and date not provided. This aircraft was likely delivered in the second batch of between 30 and 39 possibly refurbished E-3s acquired in 1941.

Bf 109 E-3, No.2/"Maril", W.Nr. 2316 flown by Cmdr. Av. Alexandru Popi?teanu of Grupul 7 Vân?toare, location and date not provided. This and the following aircraft appear to have been amongst the first E-3s received by Romania in 1940.

Bf 109 E-3, No.9/"Hai Feti?o", W.Nr. 2486 flown by Lt. Av. Ioan Di Cezare of Escadrila 57, Grupul 7 Vân?toare, based at Karpovka-Stalingrad in November 1942. I have seen one image of "Hai Feti?o" with what appear to be the remains of a pre-1941 style Romanian roundel on a lower wing (befitting an early delivery aircraft), so it might pay to check your references.

Bf 109 E-3, No.47 of Escadrila 58, Grupul 7 Vân?toare, based at Nikolaev, Ukraine, in November 1942. This and the remaining two aircraft were likely second batch deliveries in 1941.

Bf 109 E-3, No.45/"Ileana" of Escadrila 58, Grupul 7 Vân?toare, based at Bucharest-Pipera, Summer 1942.

Bf 109 E-3, No.48/"Don Pedro", W.Nr.2403 flown by Petre Protopescu of Escadrila 58, Grupul 7 Vân?toare, based at Bucharest-Pipera, Summer 1942.
As usual for RB Productions, the decals have been printed by Fantasy Printshop. Quality appears to be first-rate, with crisp printing and good colour density – the rich yellow of the King Michael Cross insignia and individual aircraft numbers is particularly impressive. The blue dots from the centre of the King Michael Crosses have been printed separately to avoid misregistration. Two different styles of King Michael Cross are provided. All of the individual markings are clearly reproduced, including four different versions of the Donald Duck emblem.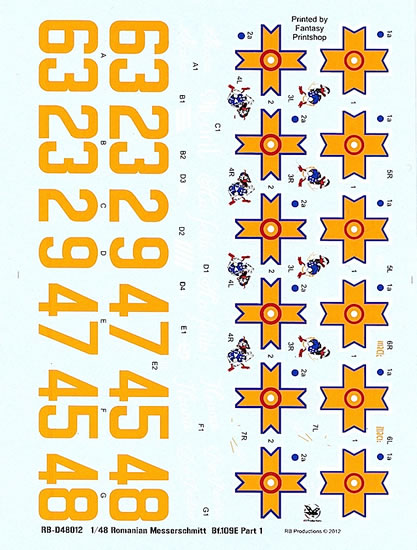 The sample decals provided for review were 1/48 scale, but sheets with markings for the same aircraft are also available in both 1/72 and 1/32.

The double-sided, full colour A4 instruction sheet is very useful. A port or starboard profile of each aircraft, accompanied by a brief description of its key features and a detailed decal placement guide, provides modelers with more than enough information to pursue further research, should they wish to do so. A comprehensive list of references is provided to assist with this.

The instructions also include a thorough description of the likely colours and finish of the Romanian Bf 109 Es, illustrated with several small but useful plan views. However, it would be helpful if (as the side profiles do) these views specified which of the two styles of King Michael Cross supplied should be used on the upper and lower wing surfaces. From the illustrations provided, it's reasonably but not 100 per cent clear which of the styles should be used, so again, modelers should consult their references.

These are not the first decals to have been released for Romanian Bf 109 Es, but – given Radu's passion for his subject – they are likely the most accurate. Applied carefully, they should deliver a spectacular model in 1/72, 1/48 or 1/32. Hopefully it won't be long before we see "Part 2" of the series….

Highly recommended.
Thanks to RB Productions for the review samples
---
Review Copyright © 2012 by Brad Fallen
Page Created 12 July, 2011
Last updated 13 July, 2012
Back to HyperScale Main Page