S u m m a r y

Title and Author:

Iraqi Fighters 1953-2003: Camouflage and Markings
by BrigGen Ahmad Sadik and Tom Cooper
Harpia Publishing

Media:

Softcover, 154 pages

ISBN:

9780615214146

Price:

Review Type:

First Read

Advantages:

Thoroughly researched and comprehensive coverage of the fighter aircraft of an interesting but ultimately doomed air force

Disadvantages:

Hard to find fault in the apparent extensive research, however destruction of documentary evidence makes some events presented as facts a little speculative.

Conclusion:

Although hampered by the widespread destruction of original source documents, Cooper and Sadik have conducted some genuinely thorough research to compile an extremely useful historical document on this contemporary topic.
Reviewed by Ken Bowes


HyperScale is proudly supported by Squadron


The Iraqi Air Force has had an extensive history of combat operations, often equipped with the most up to date weapons and equipment. With many campaigns against Israel and neighbouring states such as Iran, Kuwait and of course the US led coalition between 1991 and 2003, the Iraqi Air Force is a fascinating subject that has been crying out to be documented. Whilst the overthrow of the Hussein regime in 2003 opened access to information sources, especially veterans it also resulted in the wholesale destruction of official archives and photographs whilst preventing in country research. Given the obstacles presented, it is therefore remarkable that a detailed history of the fighter operations of the Iraqi Air Force has emerged with this volume.
This book is a highly professional account of the fighters that have been employed by both the Royal Iraqi Air Force and the Iraqi Air Force as it became after the overthrow of the Iraqi Hashemite throne. Of course being a camouflage and markings guide it opens with sections on Iraqi Air Force national insignia, unit insignia, special insignia applied to aircraft and a list of Iraqi airbases, which for someone used to references to the names used by Western military documentation is quite useful in setting the scene for subsequent chapters.
Not surprisingly giving the history of the modern Middle East (especially after WWI) the first jet fighters to equip the Royal Iraqi Air Force were British built Vampires, Venoms and Hunters, the latter seeing combat in campaigns against Israel in both 1967 and 1973. With the overthrow of the throne, the major equipment supplier became the Soviet Union in line with Arab Republic partners Syria and Egypt. Subsequently the Iraqi Air Force would receive a range of MiG and Sukhoi types up to the MiG-29 and Su-24 when the disastrous war with the US led coalition led to the terminal decline of the Air Force. The odd one out is of course the French Mirage F.1 which also receives detailed examination.
From a modellers perspective there is a wealth of information between the covers. Cooper and Sadik have analysed photographs, records and wrecks still extant in Iraq to identify not only the basic schemes and variations but also unique markings worn on Iraqi airframes including a Hawker Hunter with two kill markings from the 1967 war with Israel that could still be seen at the former Habbaniyah Air Base as late as 2006. Comprehensive lists of serial numbers for each type covered together with information on their final disposition are also included with each aircraft type chapter. The final appendix with a list of available kits and decal sheets relevant to the Iraqi Air Force subjects in this book is a nice touch. All three major scales are addressed with input from IPMS Austria.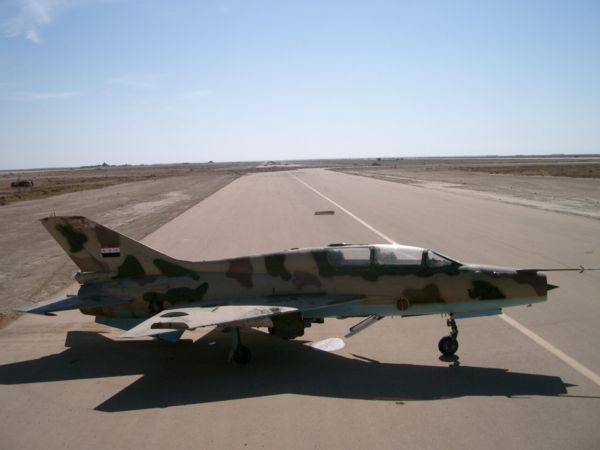 In conclusion I believe Cooper and Sadik have produced an outstanding book covering a previously under-researched air arm.
Given the combat history of the Iraqi Air Force and the line drawn under its existence circa 2003 I believe it is long overdue. As one of the many coalition airmen arrayed against Iraq in OIF it has been nice to put some more meat on the skeletal knowledge of the Iraqi Air Force I had available to me at the time.
The fact that the needs of modellers have been addressed with extensive photos, diagrams, beautifully rendered profiles and four view drawings of schemes and special markings makes this volume doubly attractive.
Thanks to Linden Hill Imports for the review sample
---
Review Copyright © 2008 by Ken Bowes
Reference Photos Copyright © 2008 by Ken Bowes from his personal collection
This Page Created on 25 November, 2008
Last updated 25 November, 2008
Back to HyperScale Main Page
Back to Reviews Page