Montex 1/32 scale
CAC CA-19 Boomerang
by Keith Sherwood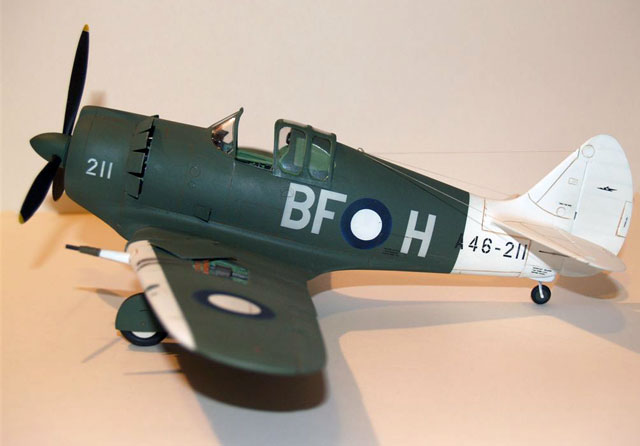 CAC CA-19 Boomerang



Here is my 1/32 scale Montex Boomerang built virtually straight from the box with only a little extra detailing in the cockpit, engine and wheel bays, mainly consisting of extra piping and Eduard seatbelts.
The cockpit floor on Boomerangs is in fact the top of the wing centre section but this was missing so I made one from thin card.
The model goes together without any major hurdles although I did have a little problem with the cooling flaps and decided to replace the brass ones with more manageable plasticard ones.
The overall fit of the major parts is second to none and the quality of the resin is first rate.
The vacform landing lights were not very good and these were replaced with clear film cut to size. Although this resulted in a small lip, I felt it was much easier to apply.
The vacform canopy provided no problems although I do think the framing is a little thick.
The wheels are also reversed on the instructions.
The instructions are a little vague too with regard to indentifying some of the smaller parts.
Only the nose art decals for one particular version are provided. The rest of the markings are applied by using the famous Montex Masks.
I had never used anything like this before but found them very easy to use and for simple markings like this they're ideal. I also tried to fade the blue on the markings with I think reasonable success.
The only problem I found was that they seemed to leave a mark on the paintwork when removing them which was quite dificult to disguise. I made several attempts with micromesh and varnish before I was happy. Maybe I left them on too long?
Colour wise, its well know that RAAF Foliage Green is as elusive as the infamous Olive Drab. After various trials, references and forum correspondence I decided to go for the Humbrol version (149 Medium Green). In my opinion I think it looks about right. The attached photos appear to make it look too dark, but in real life it isn't ( I promise).
Anyway I enjoyed building the model and look forward to displaying it along side the Hobbycraft Wirraway and Harvard sometime in the future.
---
Model and Text and Images Copyright © 2008 by Keith Sherwood
Page Created 17 March, 2008
Last Updated 24 March, 2008
Back to HyperScale Main Page