Entblöße Dein Haupt und schweige
Type VIIC U-Boat Wreck
by André Kröcher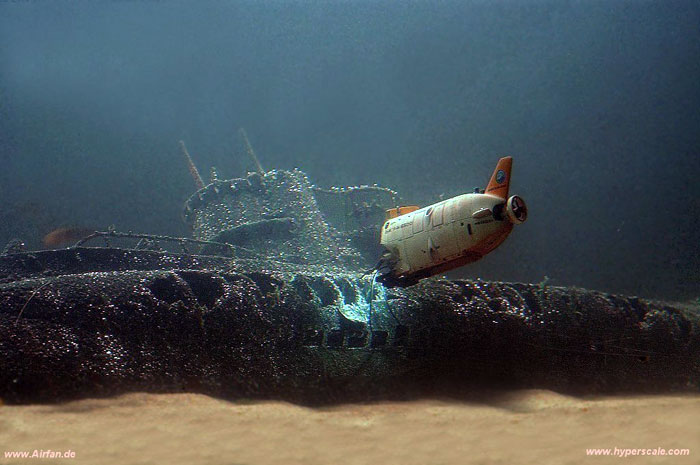 Type VIIC U-Boat Wreck

scale Type VIIC U-Boat
is available online from
Squadron

Entblöße Dein Haupt und schweige = Lay down your weary head and rest. In dignified memory of seamen of all nations.
This is a fictitious Type VII submarine wreck (gray wolf) of the former Deutsche Kriegsmarine. I was not trying to depict any particular boat. Various wreck photos were my inspiration.
After sinking, and with the passage of time, most of the hull and external components have rotted away. Only the pressure hull and parts of the conning tower remain.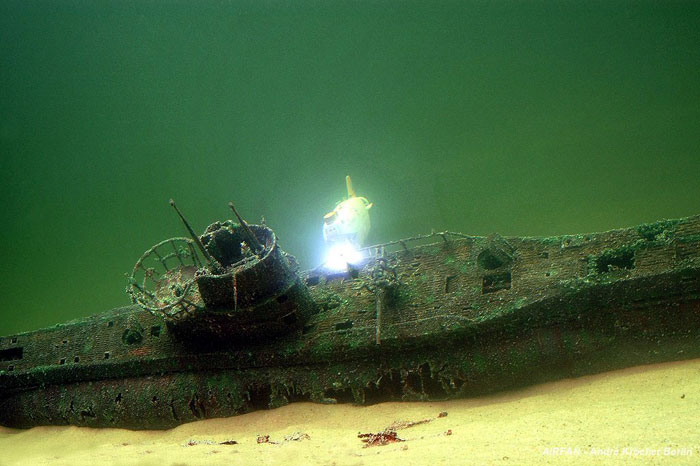 The small submersible is a model of the Japanese Shinkai 6500. This is a 1:144 kit from Takara. To this small model I added a tiny 12-16 volt light as used in a model railroad engine and made it waterproof.
The submarine is the Revell Type VIIC in 1:72. The drain holes have all been cut open. The surface was done as follows and was also used on my "test" diorama, a wreck of the DKM Bismarck.
The entire boat was brushed with liquid cement to craze the plastic. A small wire brush added more texture. Next, black paint. While this paint was still wet, it was sprinkled with baking powder to simulate built-up rust. The surface was then painted with acrylic (non-toxic) model paints.
This was necessary as the boat is displayed in a large aquarium with live fish. And the fish seem to love their new neighbour! The small fish like to swim inside the maze of the wreck to keep away from their larger companions. The aquarium now awaits the addition of a resin rockwall for a background.
While I normaly build aircraft, this project was a fun diversion. It has been displayed here in Berlin at the last show put on by the Hans Grade Modelculb.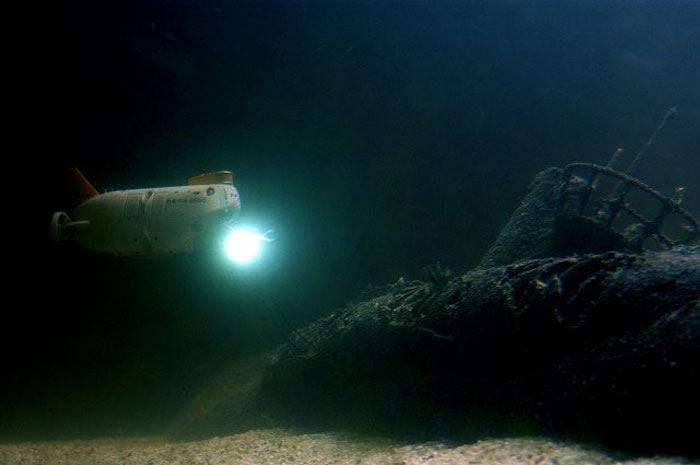 Not too many dioramas end up on the bottom of an aquarium (on purpose). But this one now has real life!
Happy modeling!
Click the thumbnails below to view larger images:
[../../photogallery/photo00027490/real.htm]
---
Model, Images and Text Copyright © 2007 by André Kröcher
Page Created 10 December, 2007
Last Updated 24 December, 2007
Back to HyperScale Main Page