Czech Master Resin's 1/72 scale
Spitfire LF Mk IXE
by Mark Davies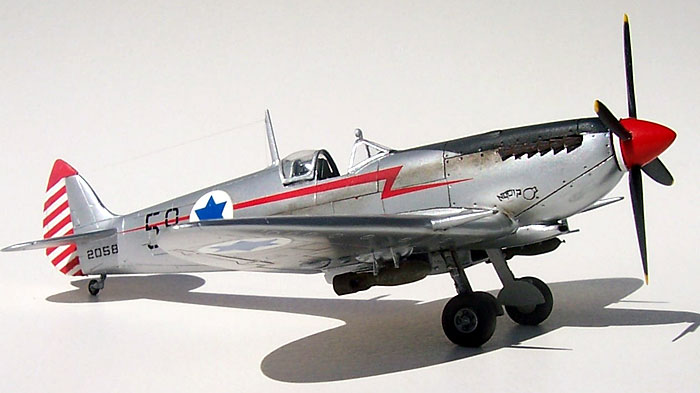 Spitfire LF Mk IXE

HyperScale is proudly supported by Squadron.com
Czech Master Resin (CMR) probably produces more Spitfire variants than any kit other manufacturer, and I suspect even exceeds those offered by New Zealandís Ventura kits. Their Spitfire LF Mk IXE also serves to set a new benchmark in terms of accuracy and completeness. Several detailed in-box reviews are available by following these links: Hyperscale, Modelling Madness and Internet Modeller.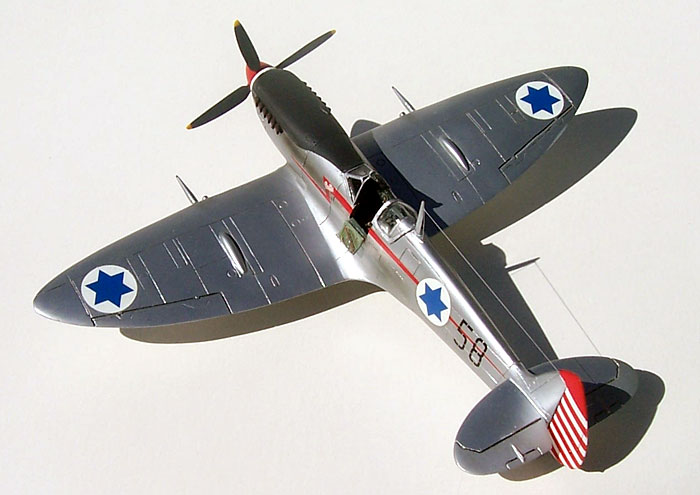 The kit is boxed with attractive artwork, and all parts are sealed in compartmentalised plastic bags. It consists of a mixture of CMR resin and Eduard pre-painted and plain Photo-Etch (PE). Suffice to say that CMRís excellent resin mouldings are 99.9% pin-hole free with very thin attachments to the casting blocks. Here is a run-down of some of the kitís options and features.
Firstly options:
Resin wheels with hubs, or resin wheels designed to use one of several styles of PE wheel hubs.

Flattened and round section exhausts.

Two types of rear vision mirrors in both resin and PE.

Spinner and separate blades, or spinner with mounted blades.

Wing and centre-line bomb racks with resin or PE sway braces.

Resin tail-wheel and leg, or separate resin tail-wheel and PE fork.

Resin or PE pilotís entry flap, plus a choice of gun-sight types.

For the wing armament there are four or two cannons, two 50 cal barrels and sleeves, plus blanking caps for unarmed versions.

In addition to Bf 109 drop-tanks (used by some aircraft on their ferry flight from Czechoslovakia to Israel) there are three bombs.
And secondly some features:
A combined resin and pre-painted PE cockpit interior.

Two canopies are provided along with an excellent Eduard masking set made from the same type of paper as Tamiya masking tape.

Thorough instructions, colour-scheme guides and a photo-walkaround.

A plethora of decal choices for Czechoslovak and Israeli machines, plus a separate full stencil set applicable to most Spitfires. These last two items are very high quality and printed by Tall Ho decals.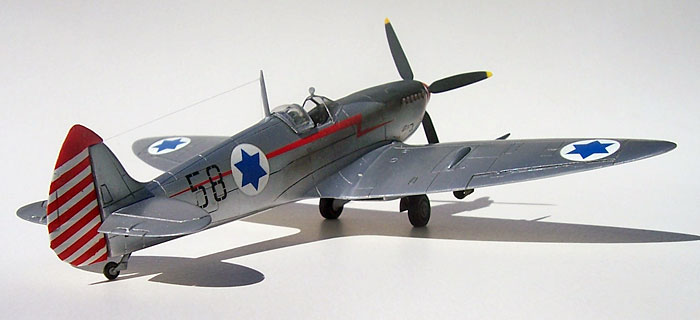 Upon opening this superb kit I was confronted with the choice of which version to model. In the end I settled on an operational Israeli machine for no other reason that it featured full-span wings with a very attractive natural metal scheme. I build models of aircraft from fall manner of air forces, and the opportunity to do a Spitfire Mk IX in colours other than grey and green was well worth taking.
Removing the parts from their casting blocks needed barely more effort than removing an injected kitís plastic parts from sprues, so fine were the attachments. I was also pleasantly surprised with the excellent fit of the main airframe parts, which was on par with good injected kits. This good fit was to continue throughout the build with one small exception (see later).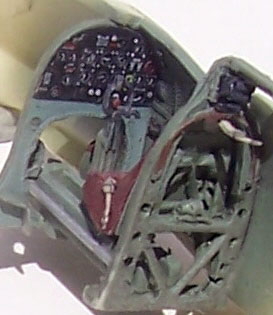 Click the thumbnails below to view larger images:
[../../photogallery/photo00021904/real.htm]
---
I liked the combination of resin and PE, which tended to optimise the properties of each to the parts being modelled, with a nice choice of medium in some cases to suit individual skills and preferences (such as bomb sway braces). The pre-painted Eduard components work well and save on time. It is a pity in some ways that a 1:72 Spitfireís cockpit is so small, as several good details are hard to see.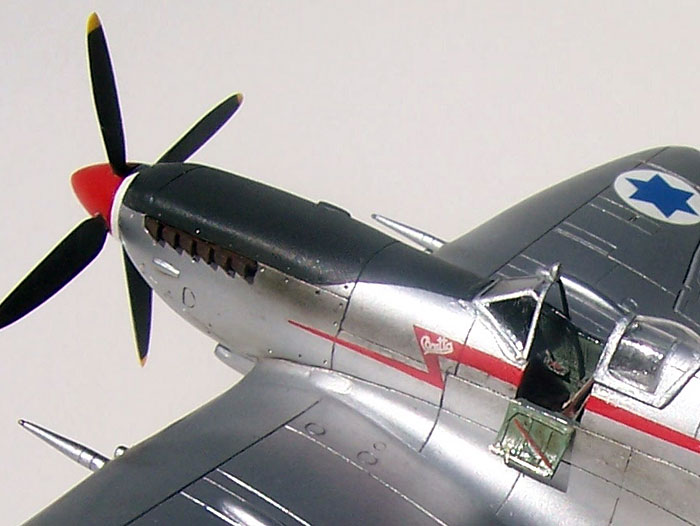 I learned some interesting information about E-type wings during this build from a friend who restores Spitfires for a living. Having noticed the outboard ammo hatches in the wings I checked to see if the model should have barrel holes in the wing leading edges. I was advised that the E wings on Merlin engine Spitfires retained the ammo hatches for the out-board guns, although no guns were fitted and no barrel openings in the wings were present. Instead the ammo bays were used to contain additional oxygen bottles. E-wings on griffon engined Spitfires did away with the out-board ammo hatches as the extra oxygen bottles were located in the rear fuselage for centre-of-gravity reasons associated with the larger engine.
I mentioned one exception to good fit. This involved the very nice PE radiator and intercooler matrix faces. They were slightly too tall to fit without modification in the underwing radiator housings. The simple fix was to trim with sharp scissors a small strip off the top of each face where it would not be seen. What I did like about these PE matrix faces was I could mask their steel colour with tape, install them and paint the airframe in Alclad II White Aluminium. All I needed to do was then reach in with a sharp bald and tweezers to lift and remove the masking tape. A quick oil wash on the PE and the matrix pattern was nicely revealed.
I chose to use the spinner and separate prop blades as I feel they look a bit better than spinner and blades all moulded as one. However, I always struggle with mounting separate blades, and feel I could maybe have done better if I had more patience. Given that this was my sixth finished model in about the first 10 weeks of 2007 I donít always have the time to get too fussy.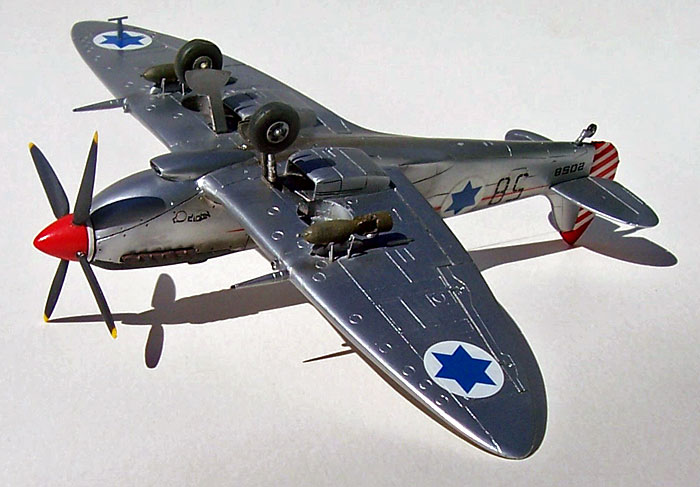 I decided to mount bombs on my machine as photos I have seen of Israeli Spitfires show them with bomb racks, and a friend of mine who is an Israeli AF fan advised they were used as fighter-bombers. I mounted the bombs with PE sway braces (prematurely) and them knocked them off, then with resin braces and knocked these off. Finally I delayed fitting the bombs and made my own sway braces from stretched sprue.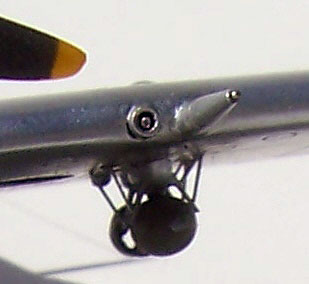 During the build I managed to drop and lose both of the kitís resin .50 cal tubes and barrel front. As a result a scratch-built mine by hollowing out some rod and inserting a small piece of hypodermic needle to represent the gun barrel.
Masking the anti-glare panel was simple as, having used Alclad II, I had no paint-lifting worries. The other thing I like about this paint is it totally resistant to oil washes which allowed me to dull & dirty the finish a little, and break the uniformity that was apparent when first painted.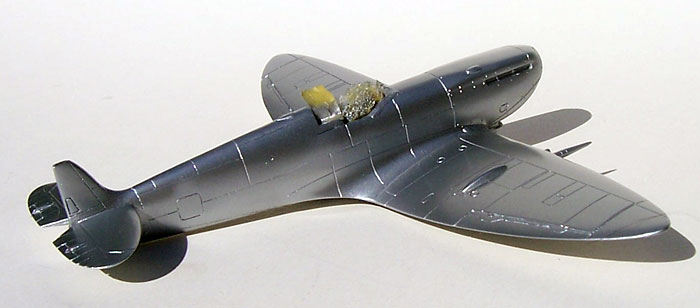 I used the Eduard canopy masks, my first time with this product, and found them to be very good. Unfortunately I was over-enthusiastic to see how well they had worked, and I removed them a little too soon whilst the Alclad had softened the underlying framingís enamel colour. In the end I resorted to using painted decal strip on the canopies as I had damaged the masks. This was my fault, and I feel I can highly recommend this masking product.
The Tally Ho decals were excellent, although for some reason the tail stripes seemed more fragile. This was probably because I moved them around more.
Given that at first glance this appeared to be quite a complex kit, I was pleasantly surprised at how straight forward it was to build. Although far from perfect due to my skill level, I am still pleased with the result, and have what I feel is an accurate and pleasing to the eye Spitfire in my display cabinet.
Click the thumbnails below to view larger images:
[../../photogallery/photo00007631/real.htm]
---
Model, Images and Text Copyright © 2007 by Mark Davies
Page Created 10 April, 2007
Last Updated 24 December, 2007
Back to HyperScale Main Page