ICM's 1/48 scale Spitfire IXc
Flying Officer Ian Keltie
by Mark Beckwith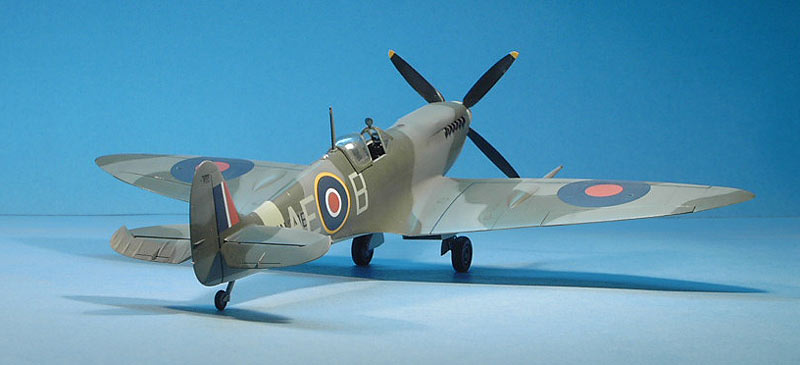 Supermarine Spitfire Mk.IXc, s/n EN398 coded AE-B
F/O Ian Keltie flew during this aircraft February and March 1943 with 402 Sqn. RCAF.

ICM's 1/48 scale Spitfire Mk.IXc is available online from Squadron.com
402 Squadron RCAF, No. 11 Group. February - March 1943
by Ian Keltie
August 24, 1942 was a particularly hot day, as I recall. It was to be a hot day in more ways than one.

We were escorting a bunch of American bombers in the daylight, coming back from deep in France. We were over, or near Boulogne, when we were bounced by fifty FW 190s. There were twelve of us. We got into a dogfight, and I was busy shooting at an FW 190, when there was a big bang in my Spitfire. I looked around, and I was under attack. The cockpit cover flew off, and at the same moment I felt something hit me in the leg, just like someone hit you with a hammer. I took violent evasive action, and climbed as hard and fast as possible to get rid of the FW 190 that was so close to me. I tried not to turn my head too much at that point, as I didn't want to lose the new sunglasses I was wearing. It seemed important at the time! When I was sure I was alone, I figured it was time for me to start going back to England, so I pushed the nose down. My leg just felt numb, so I was not in too much pain. I was halfway back across the Channel when I spotted two aircraft flying towards England. As I ran up closer, I found that they were two more FW 190s. This time I caught them by surprise. I opened fire on the second one trailing behind the first, and immediately saw black smoke coming from him as he went down. There was no way I could stick around to see what happened, as the number one FW 190 was starting to turn to get on my back, so I thought it wisest to just keep going.

Meantime, I could hear my squadron mate Eric Bland saying on his radio that he was being shot at by FW 190s. He was right on the water near the English coast. But he evaded them, and we both landed at our base at Kenley at about the same time. He was badly hurt, and I felt for him. My flying boot was full of blood, so I was rather amazed that I was still able to stand. The 402 had an ambulance, one of three squadron vehicles supplied by the city of Winnipeg, which had adopted the squadron. The ambulance took us to the mess, and a little while later an RAF ambulance took us to an emergency hospital. It was in the wing of an insane asylum that was down the hill from Kenley airport, so we had to laugh about our new quarters. We were then transferred to the RAF Hospital at Cranwell, and I was back on operations a few weeks later.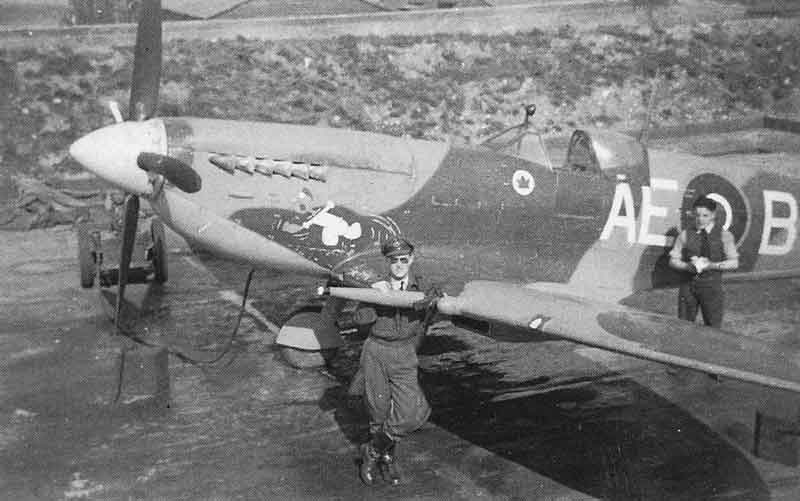 F/O Ian Keltie's Spitfire MkIXc, s/n EN398 coded AE-B, wearing his 'new sunglasses'.
That day I was flying a Spit IX, coded AE-B, but I also flew several other spitfires. In June 1942 my usual aircraft was a Mark V, BM 230, coded AE-T, and named "Gerfalcon II" with a full, not clipped wing, as some were later on. From February to March 1943 I had a Spitfire Mark IX, coded AE-I in February, and AE-B in March, which was serial EN 398. Someone in the ground crew, I believe, painted a large Popeye cartoon figure on the nose, so it was quite distinctive. Later on I discovered that it became even more famous as the mount of Johnnie Johnson, when he led the Kenley Wing just after that, with his initials on it JE-J. Several of our Spitfires carried Disney cartoon characters on the nose, quite large, such as the one of Goofy. I recall there were others, but whether they had any significance for the pilots or ground crew, other than just being for fun, I don't know.

On February 26,1943, while on a fighter-bomber operation, I was flying EN 398, AE-I, when I damaged another FW 190 at 35,000 feet over Le Touquet; France. I was following Squadron Leader Bud Malloy. Climbing into the sun, we saw three FW 190s above, seemingly doing aerobatics. One did a roll off the top, coming down as if to attack me head on. I turned towards him, and climbed. I got a short burst into the 190, and he rolled over on his back, and went into a steep dive. After this I fogged over, and was unable to see much other than bluish-white smoke emitting from the Focke-Wulf as he went into a steep spin.

The next day, February 27, 1943, I was flying the same aircraft again, when we ran into more FW 190s over Dunkirk. Lorne Cameron in his aircraft (BS 152, AE-W) shot down an FW 190, and two other fellows in our squadron also had scores (Gimbel and Ford) .

On March 1, 1943, EN 398 was recoded AE-B for some reason. During that month we had several scrambles to chase incoming unidentified enemy aircraft, but we either found no one, or the enemy aircraft returned early. On March 7, I was on a rodeo to Berck-Oraulines, and then on the 8th I was on a ramrod to St. Lo again in EN 398, AE-B, escorting sixty Flying Fortresses. I saw two FW 190s, but they were Intercepted by 403 Squadron. The activity was constant. The next day was a rodeo to Le Touquet, and again I saw an FW 190, but did not get close enough to engage. On March 13 I was on a circus to Amiens in EN 398 with seventy Fortresses.

Just over a year later, I was flying as OC of A Flight in 442 Squadron, under Dal Russel. I flew Y2-1 for the most part, recorded as serial MK 729 in my logbook, including D-day, June 6, 1944, and I do remember the mass of ships. Just prior to D- day, my logbook records that we destroyed a giant Wurzburg radar installation in strafing attacks, and that we also dive-bombed V-1 sites. On June 10,1944, I landed Y2-1 for the first time in France, at B-3 airfield. On June 16, 1944, based at St. Croix sur Mer, I was bounced by an enemy fighter as I was taking off. I had a squirt, but did not detect any result.

After that, I wanted something different to do, and I ended up flying Liberator four-engine B-24 aircraft in 168 Squadron, at Rockcliffe, Ontario. I also flew Mitchells and C-47s, quite a bit of a change from single-engine Spits, and I don't think you see some of the aircraft I flew in too many logbooks of fighter pilots!
Text and Image from "Spitfire II - The Canadians" Copyright Robert Bracken 1999. Used with permission.
The Most Illustrious Spitfire of All?
Supermarine Spitfire Mk.IXc EN398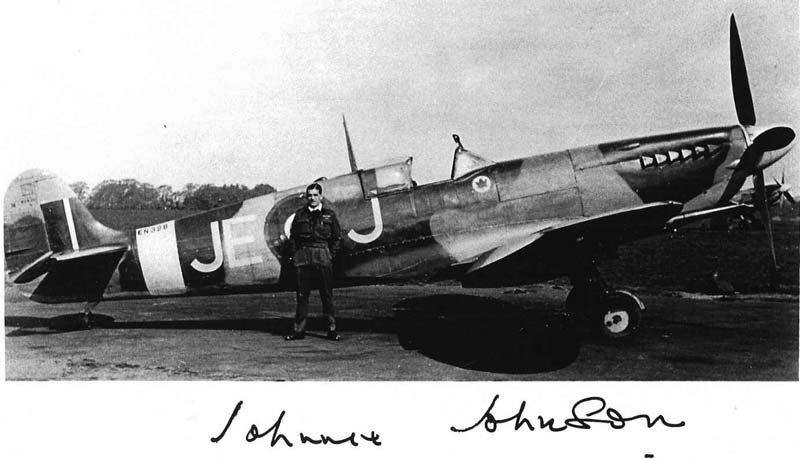 Spitfire Mk IX EN398 took its maiden flight without problems on 13th February, 1943. On 18th February the aircraft was delivered to No 402 (Canadian) Squadron at RAF Kenley. There Ian Keltie took possession of it and used EN398 (then coded AE*I) exclusively until mid March (by now coded AE*B), when 402 moved. Keltie's last mission in EN398 occurred on March 13. When 402 moved however, EN398 was left for their replacement squadron, also Canadian, No 416 Squadron.
RAF Kenley housed four RCAF squadrons - Nos 403 and 416 with Spitfire Mk IXs, and 411and 421 with Spitfire Mk Vs. On 16 March the then Wg Cdr 'Johnnie' Johnson arrived to lead the wing. Surprisingly, it seems EN398 was still undergoing acceptance checks (26 days after delivery? - and several operations!) when it caught the eye of the new Wing Leader. He related their first meeting in his book "Wing Leader":
'I found the engineer officer and together we had a look at her, gleaming and bright in a new spring coat of camouflage paint. Later I took her up for a few aerobatics to get the feel of her, for this was the first time I had flown a Mk IX. She seemed very fast, the engine was sweet and she responded to the controls as only a thoroughbred can. I decided that she should be mine, and I never had occasion to regret that choice.'
It is interesting to note that Johnson remained convinced, almost until his death, that EN398 was unused at this time, and the clean fresh paint was factory applied. However, the reason the paint was fresh had more to do with the removal of the "Popeye" nose art and other maintenance. Johnson was also convinced that the Maple Leaf painted on the side just below the windshield was green rather than red. John

son's next step was to have his initials painted on the fuselage to establish the aircraft as his own. Before he took the Spitfire into action Johnson demanded two more changes. EN398's guns were set to a standard harmonization pattern designed to spread the rounds evenly over a circle a few feet across so as to give the average pilot a better chance of scoring hits. However, Johnson's shooting skills were far above the average. To concentrate all the destructive power at his command he had his aircraft's weapons harmonized to a single point. In addition, Johnson had the Gyroscopic gun site removed and his older style one from his MkV installed in it's place as he preferred it. Johnson found that his aircraft had one idiosyncrasy that defied all attempts to correct:
"The aeroplane always flew with the turn needle a little bit to one side, even when flying straight and level on an even keel. Changing the turn and bank instrument did not cure it. 1 even took the aircraft to Eastleigh
for Jeffrey Quill to fly, but they could not cure the problem."

He decided that he could live with it.

By the end of May, 1943, Johnson had added six victories and one shared victory to his score, whilst flying EN398. On 1 June he shared in the destruction of a Me 109, on the 15 June he destroyed two FW 190s, with one more on 17 June. Although EN398 was the Wing Leader's personal aircraft, and he was normally the only pilot to fly it, there was occasionally a need for the aircraft to make up the numbers during his absence. On 20 June Sqn Ldr Robert McNair (OC 421 Sqn.) flew EN398 in action and was credited with the destruction of one FW 190.

On 24 June, Johnson destroyed a FW 190 and damaged a Me 109. Another FW 190 fell to his guns three days later. On 15 July to he led the Wing on a fighter sweep which added a Me 109 to his score. Another one was added on 25 July, one damaged on 29 July, and a share in the destruction of one more on 30 July. Success continued throughout August. He shared in the destruction of a Me 109 plus another one damaged on 12 August. On 17 August the Wing escorted B-17s on their way, and return from, the ball-bearing factory at Schweinfurt. During the action Johnson shared in the destruction of a Me 110. A further Me 109 was destroyed on 23 August. While EN398 went off to Air Service Training at Hamble for an engine change, Johnson, in a borrowed aircraft, shot down another FW 190 on 4 September. Back with EN398 he damaged a Me 109. That was to be his last claim before relinquishing his command of the Wing a few days later.

During his six months flying EN398, Johnson had shot down 12 enemy aircraft and shared in the destruction of five more. Also, he had inflicted damage on a further six enemy aircraft, plus a share in one more. During that time EN398 had also destroyed a FW 190 whilst being flown by Robert McNair. Remarkably, EN398 never broke off a mission early through technical failure, and never suffered a scratch due to enemy action.

EN398 JE-J as it looked when used by Wg Cdr "Johnnie" Johnson. Note; Johnson always maintained that the Maple Leaf was painted green, even though it is certain that while with No. 402 Squadron the Maple Leaf was red. Profile sourced from web, actual credit unknown.
---

After Johnson moved on to No 11 Group Headquarters, EN398 went to No. 421 Squadron for a couple of weeks before sustaining damage necessitating its return to Hamble for repairs. The aircraft never returned to operations (new aircraft were being delivered to units faster than they could be repaired by that time). EN398 remained in store for the remainder of the war in Europe.
EN398 was retrieved in May 1946 to go to No. 80 Operational Training Unit, RAF Morpeth and Ouston, in Northumberland. There, it was used in the training of young French pilots. That unit was disbanded in March 1949, and EN398 took off for the final time to go to No. 29 Maintenance Unit, High Ercal, in Shropshire. There she remained in long-term storage for three-and-a-half years. In October, 1952 Spitfire Mk IXc, serial number EN398, was sold to H. Bath & Son Ltd for scrap and was cut up soon thereafter.
See reference section for sources.
ICM's 1/48 scale Spitfire IXc
Have you ever had a model that seems cursed form the moment you open the box?
I have.
This is the story of my cursed build of ICM's Mk IX Spitfire and how I made just about every mistake that can be made in building a plastic model kit. Read on...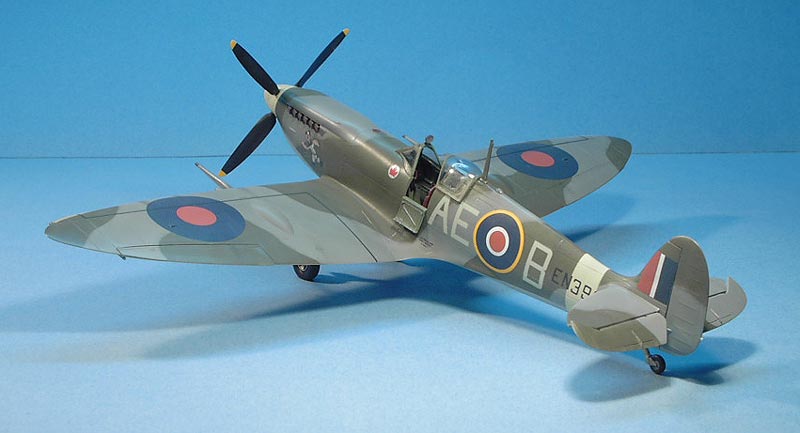 This was my first ICM kit and having read many of the reviews available on other sites, I thought I knew what to expect. As it turned out, the kit was a lot better than I thought it would be and almost all of my problems were self induced - even the major problem caused by the kit was made worse by my own ham-fisted attempt at repairing it.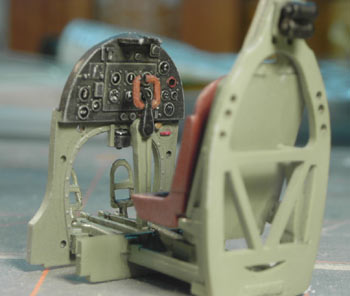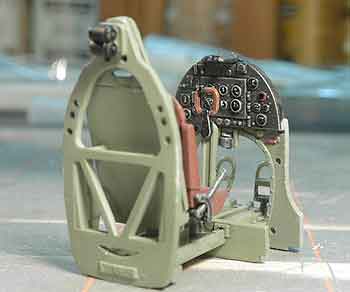 The cockpit assembles quite nicely, I had no problems with it and it installs into the already glued fuselage halves with a nice fit. Mine installed positively enough that I snapped it into place and then ran a little Tenax down the seam to glue it.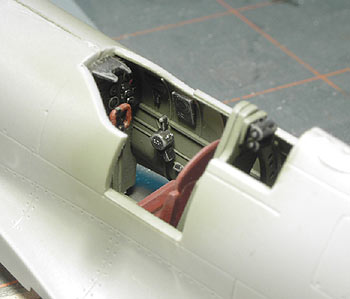 Care needs to be taken in examining the parts of the kit as you assemble them. There are sink marks that need attention, on mine I filled sink marks on the fuselage at the tail under the horizontal stabilizers and on the port side at the cockpit. I found that with care, planning and foresight the cowling pieces go together very well. Like all the other reviews I have read, I had to thin the firewall bulkhead to make sure it fit and to help ensure I got the correct dihedral when the wing assembly was attached. The wings were marred a little by sink marks but as with the others, I filled with a couple of layers of Mr.Surfacer and sanded smooth. After I had them filled to where I thought they were good, I tested with a coat of paint.
The rest of construction went smoothly, the horizontal stabilizers were a very good fit, I had removed the elevators in preparation for the Ultracast replacements I was going to use. With all basic construction completed, I decided to take some pictures of the model ready for paint. I placed the model on a flat surface and something didn't look right. I wonder if any eagle-eyed readers can spot the problem as it appeared to me?
It still amazes me, a month later, that I didn't notice the giant warp before getting to this stage. I decided to try to correct the warp with hot water but was unsuccessful. There were only two courses of action left to me, give up or surgury. I decided that the work done was worth sacrificing another kit and so I began to cut.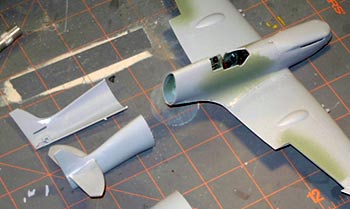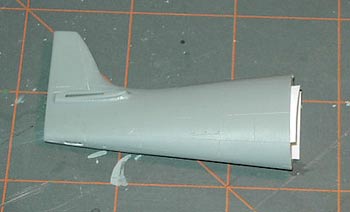 I removed the tail close to a panel line to give me a datum. I the cut the fuselage on another kit (Max at Alanger has agreed to replace the donor kit on my next order - thanks Max) and glued it together. I made some simple strengthener plates from plastic stock and joined the new tail to the fuselage with Tenax.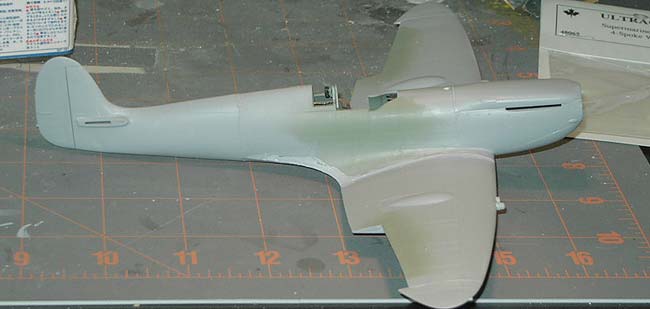 After much sanding and some rescribing, I was back to where I was before noticing the warp. I attached the glass pieces with white glue. I found the rear piece to be much too long, close to a millimeter longer than it should have been. I have not read in any other review about this problem so I'm will to accept responsibility for it as another faux pas. I used Tamiya tape for the masking and filled the open access door to the cockpit with tissue. After a wipe down with a soft cloth dampened with Windex I was finally able to move on the the fun part - painting.
A quick note now about the shape of the ICM kit compared to the real thing. Below is a picture of my model and a picture of a Spitfire MkIX I had the good fortune to be near last fall. A comparison of the two pictures is interesting. To my eye, a couple of things stand out; the fuselage looks a little narrower (topside to underside) on the kit than the real thing, the kit canopy seems to be shaped a little rounder and be oversize, and the sit of my model is wrong as the undercarriage should be angled forward a tad more. I haven't built a Hasegawa MkIX Spitfire so I cannot make a comparison picture of that, but I will recount a quick anecdote: when Robert Bracken and I were looking at the real Mk.IX pictured below, we both remarked how much like a Hasegawa it looked.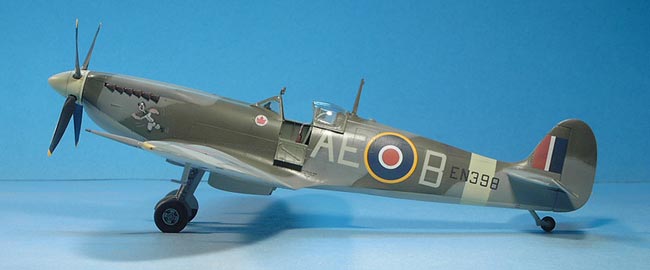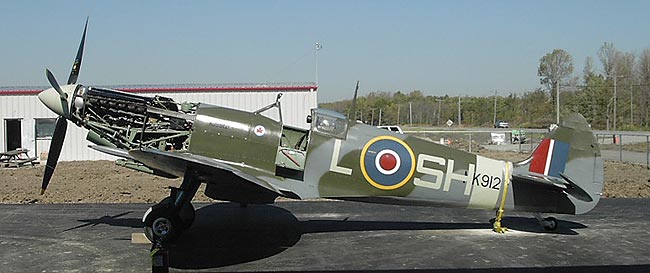 ...and below is a composite of the two pictures. Note that I rotated the picture of my model to compensate for the incorrect sit. I have matched the bottom of both fuselages and used the cockpit entry door, base of the fin and the knot in the tie down strap (as it sets the position of the underside of the fuselage) as the datum points. There is clearly a significant difference in the depth of the fuselages. Food for thought?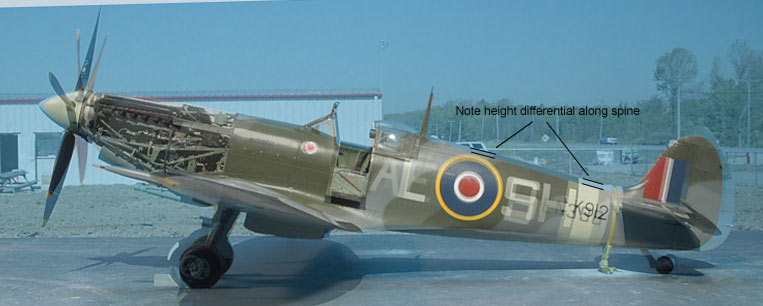 Anyway, back to the story... I thought my struggles were over. I had decided to try a freehand camouflage as I wanted experiment with pre-shading some more, this time on a camouflaged upper surface. I preparation, I pre-shaded the entire model with Gunze flat black.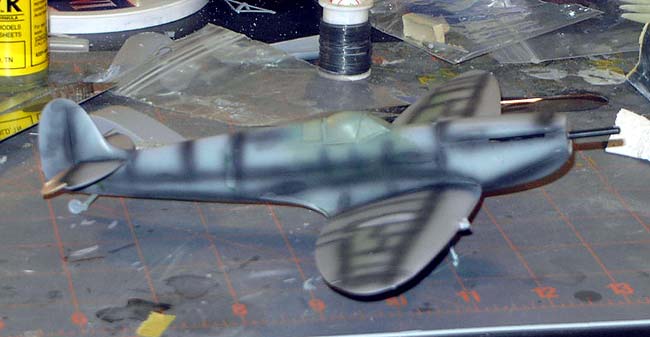 I sprayed a coat of RAF Interior Green over the glass pieces and was then ready to begin the top colours. For this particular model, all the paints used were Gunze acrylics. I applied the Medium Sea Grey (MSG) to the underside first, allowing the pre-shading to just come through the top coat. When that was dry, I applied the Ocean Gray on the upper surfaces, spraying the camouflage pattern only, and again, trying to allow a little of the pre-shading to show through. Then, I used my new Iwata HP-B to spray the Dark Green pattern free hand. It's possible that my troubles were unfamiliarity with the new airbrush, but I was unable to - despite many attempts - to get a result I was happy with.
So, finally, I masked with Blue-tack and switched back to my Aztek 470 and re-sprayed virtually the entire camouflage scheme. Of course, in doing all this spraying and re-spraying I completely obliterated the pre-shading! After allowing the paint to cure fully, I masked and sprayed the yellow leading edges on the wings and the Sky fuselage band. When they were all fully cured, I made my next mistake and sprayed on the gloss coat for decals with Metalizer Sealer instead of Future.
Ian Keltie's Spitfire was a Mk IXc of 402 Squadron. I experimented with the ICM decals included in the kit and found that they are useless. I used some Watermark decals for the code letters, some Hobbycraft Seafury decals to make the Maple Leaf (which was red and not green as is sometimes depicted) and an Aeromaster generic roundel sheet for the national markings. I used a Tally-Ho sheet for the serial numbers and had a terrible time trying to make sure they didn't silver. Suffice to say, I ended up having to repaint in a couple of places to repair damage done by an excessive use of setting solutions! I ended up trying to use Future as a decal setting solution and found it works very well - that's how I got the walkway markings on the wings without silvering.
By far the biggest issue with decaling was the "Popeye" nose art. First I looked on the web, without success, for any images of Popeye that matched the character painted on the Spitfire. Next, having decided that I'd have to make it myself, I traced it from the photograph in "Spitfire II, the Canadians" and then scanned the image into the computer. Next, I cleaned up the image and then painted it in Photoshop to the colours I wanted. The profile art in the book has Popeye's outfit as yellow, which I felt was not likely so I made my Popeye wear a light grey uniform. The pictures below indicate the development of the image.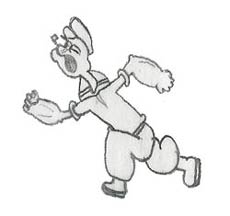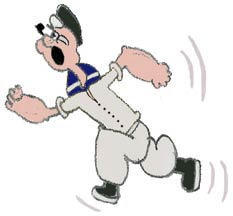 With artwork done and correctly sized, I printed onto clear decal paper and set it aside to dry. When it came time to apply the Popeye decal, I was disappointed, but not really surprised, to find the colour washed out and the decal became virtually transparent. So, there was nothing left to try but to hand paint Popeye using the outline on the decal as a guide. I think it came out okay.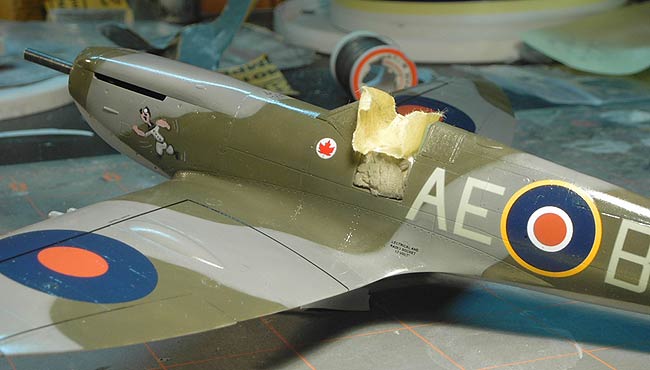 With the decaling finally completed, I sealed it all up with more Metalizer Sealer and set it aside to cure.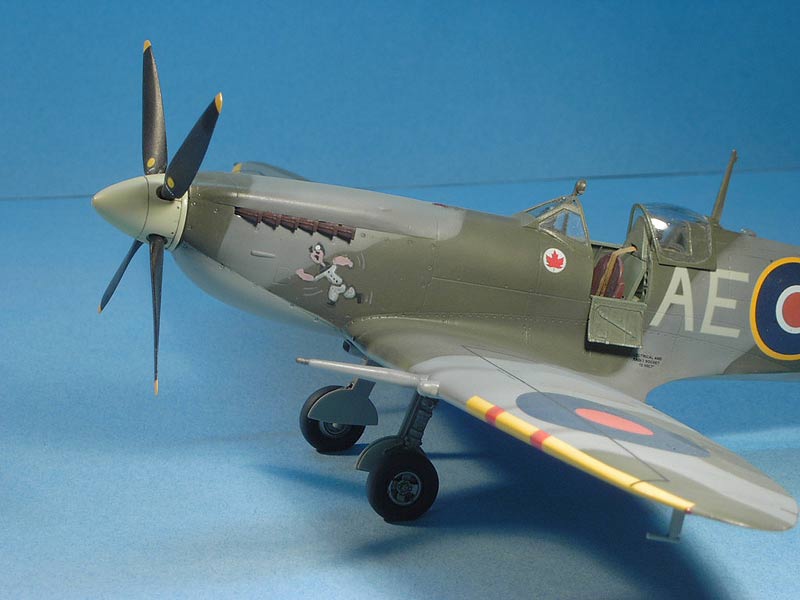 While the model cured, I turned my attention to the Ultracast wheels and Spinner. These are exquisitely molded resin parts that are vital to finish an ICM Spitfire. I used SNJ to represent the natural metal finish for the wheel hubs. It is possible that EN398 had covered hubs but I have not seen any pictures of it while it was with 402 Squadron showing the wheels to be sure.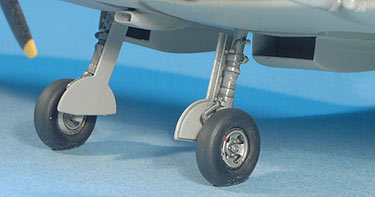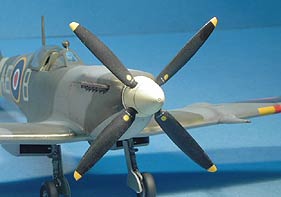 The spinner and prop blades are equally well cast and I painted and decaled them while waiting for the rest of the model to cure.
Weathering, Final Assembly and Completion
On the final stretch now, I attached the undercarriage, the spinner, the cannon barrels, the Ultracast exhausts and other bits and pieces. With that done I applied a flat coat, again using Gunze acrylic, and once again set the model down to dry.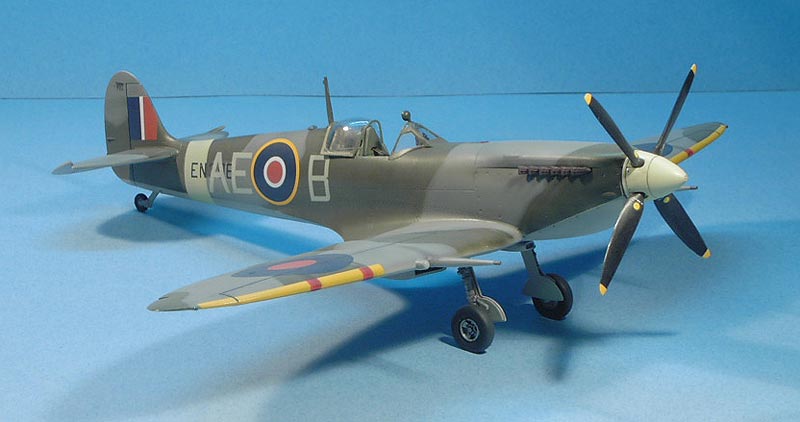 I applied some pastels sparingly as this was a new aircraft at the time I am depicting it I sealed in the pastels with another light coat of flat clear and decided to call it finished.
---
Errata
I am now aware that most probably the wheels are wrong. Certainly when Johnnie Johnson flew EN398 it had covered hubs on the wheels. I plan on fixing this as soon as I get hold of some appropriate wheels. I displayed the kit with both machine guns in the wings, though the pictures seem to indicate that the outboard machine guns were omitted. Ian Keltie is unable to recall whether the machine guns were there or not.
Well, I've completed one of the big, bad ICM Spitfire kits.
Despite the warped fuselage and the resultant surgery, I enjoyed the build phase of this kit as much as I've ever enjoyed the build phase. I wish I had done a better job with the painting, decaling and general finish.
Nothing went right.
I will certainly build more of these things and hope to enjoy subsequent kits at least as much as I did this one. The final result result disappoints me however, though that is in no way a reflection on the quality of the kit.
My verdict on this one, "...could do better."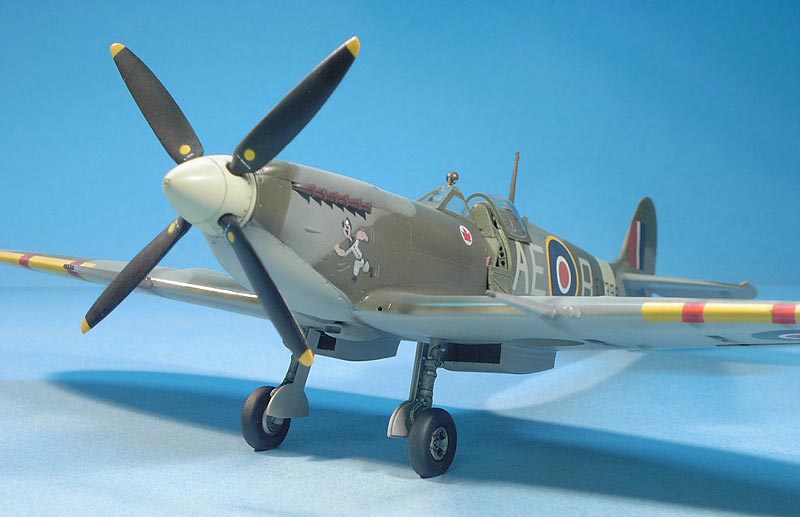 Printed Sources:

"Spitfire II, The Canadians" by Robert Bracken
"Cockpit" by Donald Nijboer and Dan Patterson
"Aircraft of World War Two" by Michael Sharpe, Jerry Scutts and Dan March
"Spitfire - THe Story of a Famous Fighter" by Bruce Robertson
"The Royal Canadian Air Force - At War 1939-1945" by Larry Milberry and Hugh Halliday
"Spitfire - A documentary History" by Alfred Price
---
Web Sources:

http://www.kitparade.com/features00/spitfireixconstructionrs_1.htm

---
Individual Correspondents
---
Model, Images and Text Copyright © 2007 by Mark Beckwith except where otherwise stated
Page Created 07 March, 2007
Last Updated 24 December, 2007
Back to HyperScale Main Page