Tamiya's 1/48 scale
Supermarine Spitfire Mk.Ia
by Werner Scheibling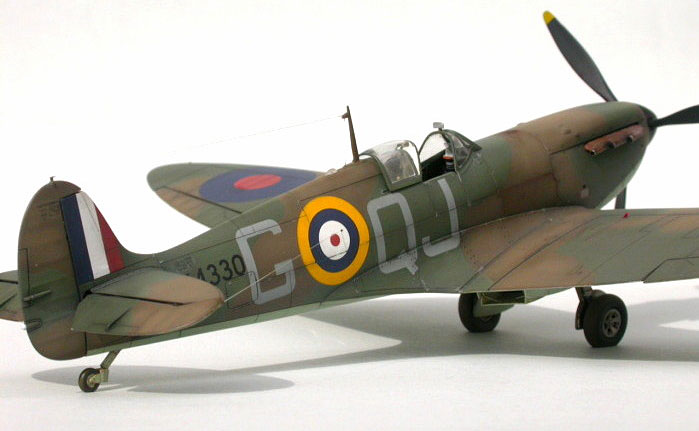 Supermarine Spitfire Mk.Ia
No. 616(F) Squadron RAF
Kirton in Lindsey / Lincolnshire, early October 1940

Tamiya's
1/48 scale Spitfire I is available online from
Squadron
It was August 2006 and I was pondering over the ever difficult question which kit to choose for my next project. (Having a growing stash of equally tempting kits in the treasure chest doesn't seem to help at all).
As this year marked the 70th birthday of Supermarine's timeless Spitfire, my decision was quickly made: I dragged out a Tamiya Spitfire Mk.I kit, bought in the mid-nineties, and discovered to my joy that I had added a set of Aeromaster decals and some Eduard photo-etch to the contents of the box sometime long ago.
---

The Kit
A lot has been written about Tamiya's representation of this beautiful aeroplane – and not all comments are favourable. Personally, I would sum up the pros and cons like this:
High quality plastic, perfect moulding, very good fit of all parts

The outlines of nearly all parts reflect the scale plans in 'Modellers Datafiles' very closely (though I'm generally sceptical about most kinds of scale plans).

The shape of the wing's trailing edge has been much maligned because it is slightly too curved and tugs in at the fuselage joint - which it shouldn't do. Nothing to get wound up about – just carefully sand it back into shape and the wing looks fine

The upper wing bulges (which create space for the main wheels when retracted) are slightly too big and wrong in shape. As there are not a lot of photos showing these bulges in close up, I hope to get away with not fixing this detail

The clear parts are way too thick which hardly seems acceptable these days

The propeller blades do not really look 'De Havilland', which of course they should

There might be the odd access panel out of place, or too many, or missing, depending on how much you trust scale plans

Definitely missing are the aerodynamically shaped hot air vents (gun heating exhausts; one on each side on the underside of the wing, near wing tip). I got mine from an old Mk.V kit, sitting in my scrap box

And finally, as I learned from the German importers of the Tamiya brand, this kit is most likely out of production by now. Sad news indeed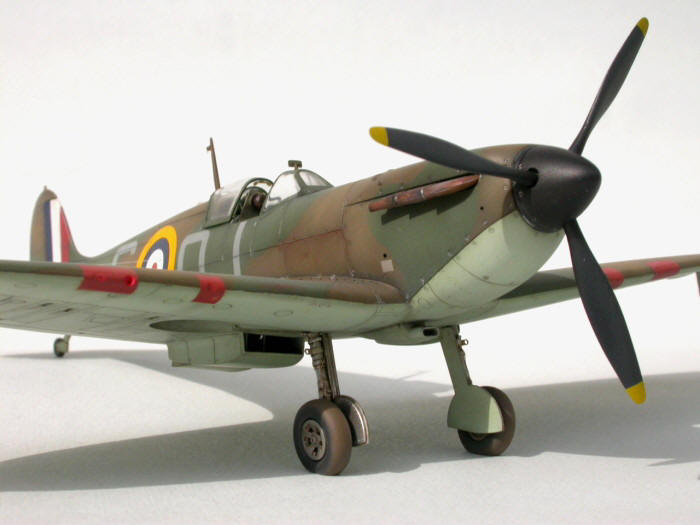 Resin Accessories
Some areas of the kit can definitely do with improvement and 'Ultracast' from Canada provide the necessary resin parts. These are:
a very realistic seat with Sutton harness

a beautiful set of exhaust collectors

a prop and spinner assembly that perfectly represents De Havilland's early two-speed, three-blade metal propeller

the separate flying surfaces which are not necessarily a must, but give the model just that tiny bit of enhanced realism that most of us look for

the five-spoke Spitfire wheels - which are a slight let-down. The rims are not exactly round – a fault that would stand out like a sore thumb once the parts are painted. I chose not to use them
As the brand name implies, all parts are immaculately cast with a very durable, break-resistant resin. No worries about any hidden air bubbles here.
Cockpit Assembly
As the only aftermarket resin cockpit set I'd contemplate using ('Cooper Details' of lucky modellers' days gone by) doesn't seem to be available any more, I had to fend for myself.
Roughly the same amount of work and time as I used for the rest of the construction went into the cockpit assembly.
With some useful parts from the Eduard PE sheet both cockpit sidewalls received additional detail that is not provided by Tamiya. Switches, electrical wiring and little extras were scratch built using copper wire (0,1 – 0,3 mm diameter) from the local electronic shop, punched out discs from styrene sheet and leftovers from old PE frames. The photos in 'Modellers Datafiles' provided the necessary inspiration.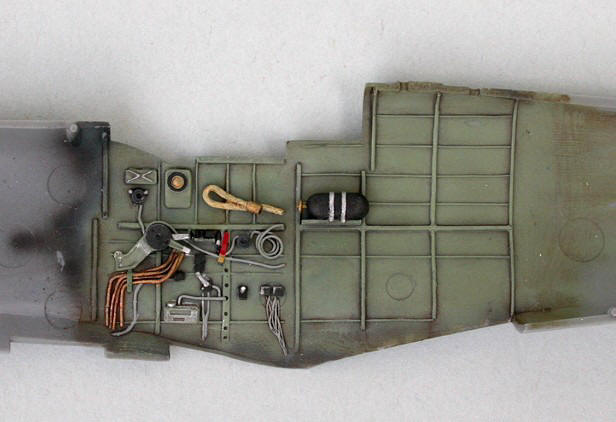 I decided to use the kit's plastic instrument panel because it is more three-dimensional than the Eduard PE part. All instrument dials were punched out from various old decal sheets and carefully glued into the (otherwise rather empty) dial frames. Tamiya unfortunately didn't provide any decals in the 90s for this important area.
The gunsight was entirely scratch built, as the provided plastic part is somewhat frugal.
And now came the tricky bit: How to integrate the resin seat into the cockpit assembly? As a former catholic I still seem to prefer the arduous and stony path as a general approach (no offence meant, guys).
First I removed all superfluous plastic from the cockpit floor and only left the two rudder actuating rods. This left just enough plastic to connect the front bulkhead to the rear bulkhead, but the assembly is fragile.
After some deliberation I decided to create the complete system of articulated tubing that attaches the seat to the rear bulkhead.
As the real Spitfire didn't have a cockpit floor, this system allowed a sturdy attachment of the Bakelite (the first industrially used synthetic resin) seat to the rear bulkhead. At the same time the pilot could move the seat easily up and down with the help of a lever at the right side of the seat.
I used hypodermic needles of various diameters and brass wire to recreate this framework. Superglue holds it all together.
When the seat finally sat straight and level in the middle of the fuselage, I knew I had got my measurements right. What a relief!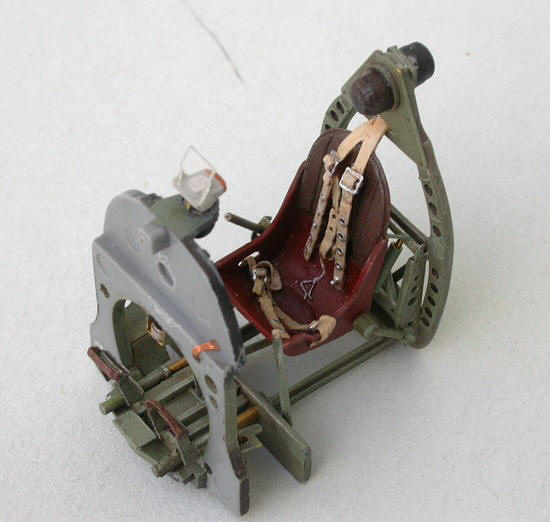 Click on the thumbnails below to view larger images:
[../../photogallery/photo00029208/real.htm]
---
The Balance of Construction
There is not a lot to report, as this is a relatively simple kit with only few parts which all fit very well:
· Resin flying surfaces: I dropped only the elevators – a common sight with parked Spitfires. The replacement ailerons are very tricky to install, as the top wing / lower wing cut-outs are asymmetric. Some very exact cutting and lots of dry fitting is required. The top and lower wing cut outs had to be slightly spread apart with a custom made styrene spacer. Without this spacer the top wing would sag and come into conflict with the straight aileron leading edge. I attached all these resin parts with the help of brass pins and two-part epoxy
· The radiator housing got a new flap made from styrene sheet and tiny stiffeners from Eduard's PE sheet. The flap was positioned '3/4 open'. Unfortunately the radiator body, an integral part of the lower wing moulding, had to be removed and rebuilt, as it is too long. I used fine wire mesh from a generic Eduard PE sheet and fine plastic strips to detail the radiator front and end
· As I didn't use the Ultracast wheels, I drilled out the kit's rims to give the voids between the 'spokes' the necessary depth. The finishing work on these cut-outs was done with the tip of a (or rather several) scalpel blade(s). I ought to warn you though that modifying two rims that way equals the timeframe of one long modelling evening… Before flattening the tyres with sandpaper, remember to keep in mind the fact that the Spitfire undercarriage has a positive wheel camber, otherwise our model would sit very peculiarly on level ground
· The clear canopy parts have the thickness of scale armoured glass and are not completely distortion free. This time I didn't crash-mould replacement parts but tried a new approach: First I dremeled and sanded the parts from the inside until the frames were down to proper scale thickness. Then I polished the parts with Tamiya compound and dipped them in Future (or Klear for the Brits amongst us). They are perfectly acceptable now and nobody would notice that the centre sections are still as thick as before.
As I have come to like 'Vallejo Model Air' acrylics a lot, I wanted to use these paints on my Spitfire model, too. I selected the suggested hues (017 dark green, 029 dark earth and 009 duck egg green) and went to work.
The demarcation lines between the green and brown segments should be sharp, which calls for the use of proper templates. First I copied the shape of the templates on drawing paper, using Tamiya's scale plan that comes with the Mk.V kit. It provides the so-called 'A'-scheme. Then I made myself an 8 cm wide strip of Tamiya masking tape and transferred the shapes onto this surface. A special template cutter for curvy outlines helped a lot to cut the masks in smooth, flowing lines.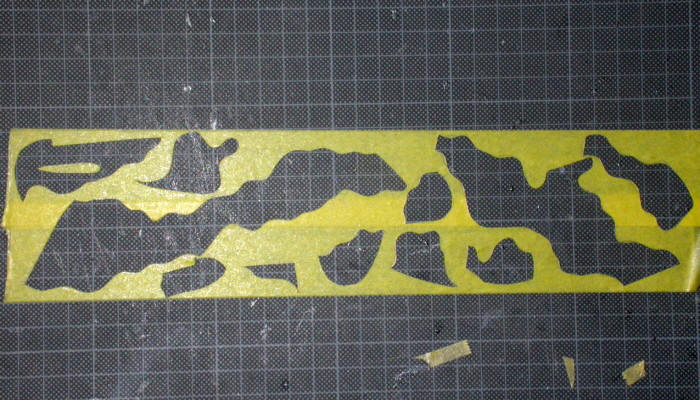 When it was time to remove the masks I found the duck egg green far too intensive (I think it would go well as 'Sky' used by the RAF in the fifties), the dark green too light and the dark earth too dark. What now? The undersurfaces were remedied by lightly overspraying the offending shade with strongly diluted RLM 76 'Lichtblau'. The green was darkened by rubbing on various thin layers of dark olive green artist oil paint with a soft cloth. The dark earth was treated with an overspray of strongly diluted Gunze earth brown – a hue suggested for weathering armoured vehicles. Judging from wartime colour photography I managed to come pretty close to the original, even though it was a lot more work than originally planned.
All panel lines were accentuated with pastel dust (greys for the under surfaces and blackbrowns for the upper surfaces). Certain panel lines, where fluids would seep through, were treated with strongly diluted artist oils.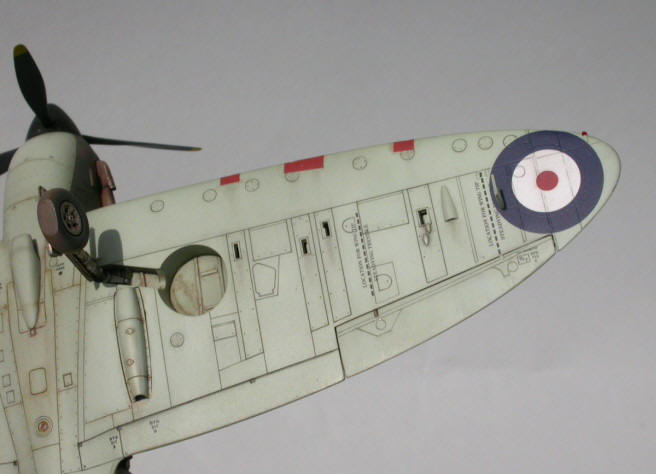 To replicate paint-chipping, I like to use a 'Karismacolor silver' pencil (a US product). It has the right softness to stick well to smooth, painted surfaces but still doesn't crumble; it is better than anything similar I've tried before.
The Aeromaster decals went on without any hint of silvering, even though they were more than ten years old. Unfortunately they reacted only to the strongest of decal softeners and I had to use up my last few drops of 'Aerosol' (once marketed by Aeromaster). If any fellow modellers know whether this aggressive mixture is still sold under a different brand name, I would be happy if you could drop me a line.
As a final touch I oversprayed all decal areas with very lightly tinted clear varnish (one drop of dark grey per airbrush cup) to tone down the unnatural brilliance of brand new decals.
Perhaps I should finish this section with some remarks on how I painted the exhaust stacks.
I do like to visit aeroplane museums (Duxford near Cambridge is my favourite place because of its hands-on appeal) and spend the day studying and photographing details of restored and – even better – unrestored warbirds. I think I feel confident enough now to claim that the general depiction of 'brass' or 'rust' as the predominant colour of British aeroplane engine exhausts is wrong. One of the Duxford engineers described the material as some kind of high-carbon steel that looks like matt stainless steel when new. It hardly rusts, but darkens in orangey and red-brown hues when heated repeatedly. An underlying metallic shine is generally visible, which sometimes gives the parts a brass-like appearance. And, the older the exhaust, the darker its colour.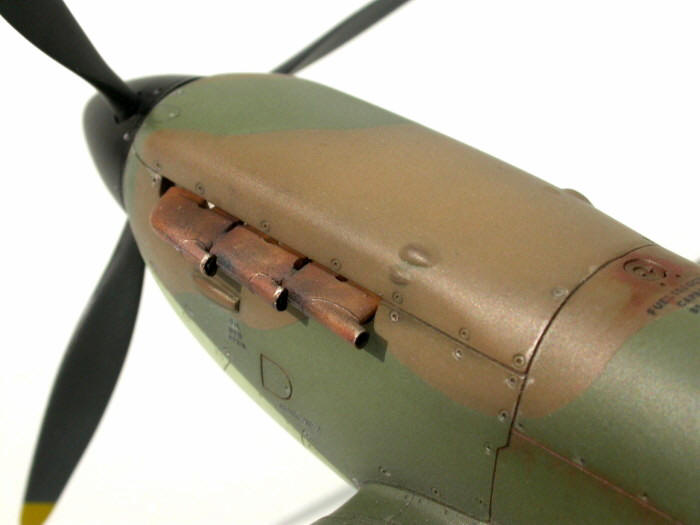 I tried to replicate this by first spraying the Ultracast parts with Alclad II matt aluminium. Then I added nearly translucent shades of orange and red-brown by airbrush. The final touches were done with pastel dust, also in reddish-brown hues. Everything was sealed with matt acrylic clear varnish. I'd also like to note that these early Spitfires hardly showed any exhaust staining, because the exhaust collectors stick out a fair bit from the fuselage.
---
Some historical notes about 'my' Spitfire Mk.Ia, serial X4330, QJ-G
<![if !vml]>
<![endif]>
According to Shacklady and Morgan, X4330 was first flown on 31 August 1940. A bit more than a month later (14 October 1940) it was destroyed in a crash landing at base. Certain distinctive features in its camouflage and markings - uniformly Sky' coloured undersurfaces with 'A'-type roundels, black spinner and no fuselage band - are secure proof of the relevant time frame.
'Aeromaster' claims on its decaling instructions that this Spitfire was flown by the British Ace of Aces, James Edgar 'Johnnie' Johnson.
As 'Johnnie' Johnson spent nearly the whole of September to December 1940 in hospital recovering from shoulder surgery, his flying hours in this Spitfire must have been rather limited. His real career as a most outstanding fighter pilot and officer started in January 1941, when he was back on duty and X4330 probably long dismantled for any re-usable spare parts.
Finally: 'Camouflage and Markings' claims that X4330, QJ-G, belonged to No. 92(F) Squadron, which is wrong. There has always been confusion about Spitfires marked QJ, as this code was at least temporarily used by both 616 and 92 Squadrons. Conclusions are virtually impossible from the photo alone, unless the serial number is visible.
Building a kit from the early 90s can still be a lot of fun and the result doesn't have to be inferior to a state-of-the-art kit. But maybe this is only true, if the brand name is Tamiya. Something else this kit taught me is that it is not necessary to buy expensive resin cockpit sets all the time. You can do a lot with copper and brass wire, maybe some PE details, preferably a punch-and-die set – and a fair amount of time and patience. And to be fair, 'Ultracast's' lovely resin parts have to be mentioned again, most favourably.
Some selected books for the Spitfire fan:
· Spitfire – The History, by Eric B. Morgan and Edward Shacklady
Key Publishing Ltd., Stamford / England 1987
ISBN: 0-946219-10-9
· The Supermarine Spitfire – A Comprehensive Guide For The Modeller,
Part 1: Merlin Powered, by Robert Humphries
Modellers Datafile No. 3, SAM Publications, Bedford / England 2000
ISBN: 0-9533465-2-8
· Spitfire in Action, by Jerry Scutts
Squadron/Signal Publications, Aircraft No. 39, Carrollton / Texas
ISBN: 0-89747-092-3
· Camouflage and Markings RAF Northern Europe 1936-45, Number One – Supermarine Spitfire, by James Goulding
Ducimus Books Ltd., London
· The Royal Air Force of World War Two in Colour, by Roger A. Freeman
Arms & Armour Press, London, 1993
ISBN: 1-85409-185-9
---

Resources:
· Supermarine Spitfire Mk.I, Tamiya 1/48 Scale Aircraft Series, Kit # 61032-1800
· Spitfire Mk.I, 1/48 scale photo-etch detail set, Eduard # 48-106
· 4 Ultracast 1/48 scale resin detail sets:
o Supermarine Spitfire seats (with Sutton harness) # 48020
o Supermarine Spitfire Mk.I control surfaces # 48038
o Supermarine Spitfire Mk.I exhausts # 48040
o Supermarine Spitfire Mk.I/II/V De Havilland 3-blade prop and spinner
# 48112
· Battle of Britain Spitfires, AeroMaster Decals # 48-078
· Spitfire Stencils, Crazy Modeler Decals # DC-0092
Click on the thumbnails below to view larger images:
[../../photogallery/photo00014179/real.htm]
---
Model, Images & Text Copyright © 2007 by Werner Scheibling
Page Created 03 September, 2007
Last Updated 24 December, 2007
Back to HyperScale Main Page