Hasegawa's 1/48 scale
Kawasaki Ki-61-I Hien
by Fernando Rolandelli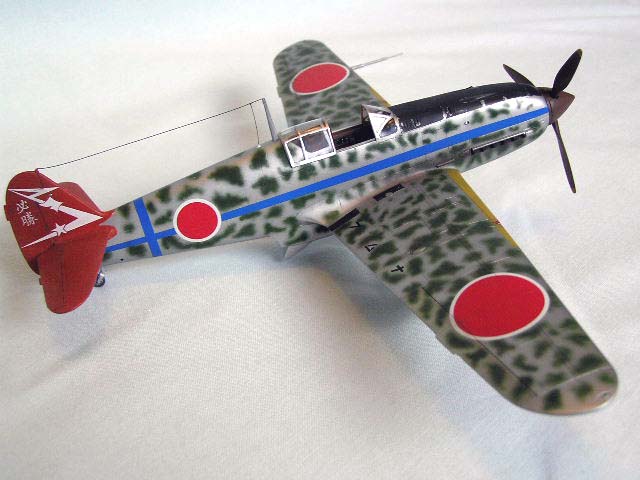 Kawasaki Ki-61-I Hien (Tony)


Hasegawa's 1/48 scale Ki-61-I Koh/Otsu Hien is available online from Squadron.com
Background
A "multipurpose" fighter developed alongside the heavy interceptor Ki.60 around the license-built Daimler Benz DB 601 power plant, the Hien has the distinction of being the only Japanese fighter with an in-line engine, thus provoking all sorts of misidentifications and the appearance of "recognition" markings in Allied fighters.

The story of its nickname "Tony" being assigned on the assumption that it was an Italian design is probably true but not at all that exceptional, as most Japanese aircraft designs were regarded as mere copies of Western equipment (in fact they were, up to the early 1930s, and many Army weapons still were in WWII), and the obvious difference of Hien to the rest of them (as well as its superficial similarity to the Mc.202) pretty well justifies that.

A good aircraft providing adequate armament and some measure of protection, it was hampered by an unreliable power plant (Japanese engineers never coped with in-line engines, even with a rock-steady one like the DB), leading to the development of the Ki.100 Goshikisen. However, it was a serious contender up to the appearance of the P-51D.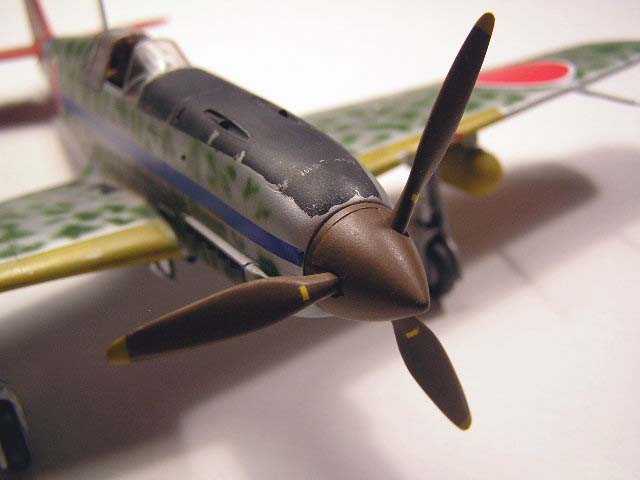 Maj. Teruhiko Kobayashi started his career as an Army officer in the Artillery branch, later transferring to light bombers, serving in 45th and 66th Sentais. Further transferring into fighters, he served in the Akeno fighter school, being appointed Group Commander of the 244th Sentai. A home defence group, based at Chofu airfield in the outskirts of Tokyo, this was as much a crack outfit as a highly publicized unit, whose exploits were exaggerated to the most to boost morale. It has been said that this very machine was especially prepared for a session of propaganda photos and not flown operationally, at least as depicted. A share of the mighty B-29 was brought down by the unit; however, the personal account of Kobayashi was trimmed down from a dozen (ten B-29s and two fighters, taken mostly from his own accounts as well as from pictures of this very machine –maybe it showed the unit's successes, in true Japanese IAAF tradition) to just five, three B-29s and two Hellcats (one of the former reportedly by ramming; in any case, no small feat). Rejoining the JSDF after the war, he got killed at the commands of a T-33 in 1953 in a flying accident.
---

Hasegawa's 1/48 scale Hien
This 1/48 scale kit is the Hasegawa, in the markings of the 244th Sentai. No detailing set was used, exception made of the seatbelts, from Eduard 49 005, and the small ring sight, from Eduard 48 411. The customary Squadron vac canopy was added. After a search for suitable decals (more on that later) I ended up using Techmod 244th Sentai sheet.

The kit is good, though not without its shape issues (me, a rivet counter?) Though undoubtedly a "long fuselage" Hien, it lacks a couple of millimeters, all of them seemingly in the nose area. Common occurrence in the Hase's stash, it seems. Wheel wells are far too shallow, and next to impossible to fix. Canopy is exceedingly thin, but moulded one piece. Lastly, the moulds may be a bit worn out, and most large pieces showed warping to some extent.
The Cockpit
Well, the cockpit is actually quite good, as most Hase's Japanese planes in the scale. However, and also as usual, it is oversimplified in the deck area forward of the instrument panel. There was no bulkhead there, so I deleted the one in the kit and scratchbuilt a "shelf" to which I added the butts of the forward guns. I scratchbuilt them from simple plastic square section rods, but any .5 Browning butt could be used, Ho-20 cannons were simply overfed versions of these. The reflector sight mounting was extensively rebuilt, and the small auxiliary ring sight was added.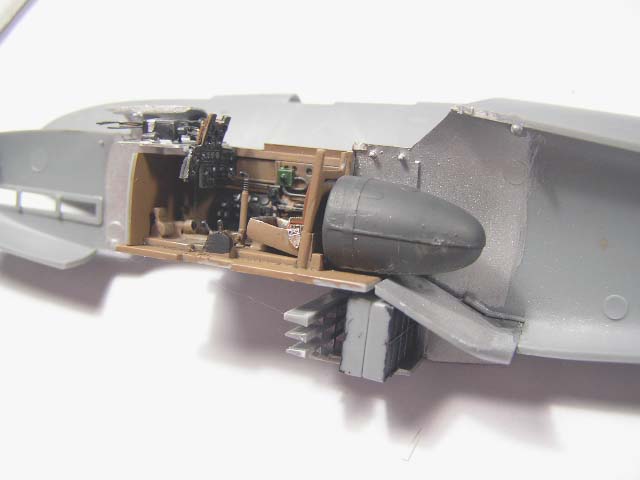 The instrument panel was thinned to scale and the butts of the upper row of instruments and corresponding wiring was added. The sidewalls and especially the floor were further detailed with additional fittings, piping and wiring. Hien's main fuel tank was visible behind the pilot's seat, so I mimicked one from half a 109 drop tank (dozens of these in any self-respectful spare parts box).
---

Fuselage
This being a reissue of an earlier released kit, it seems that age is showing in the moulds, and most large parts were moderately warped. The curvature of upper wings had to be restored with some plugs, and huge gaps in the wing root leading edges filled.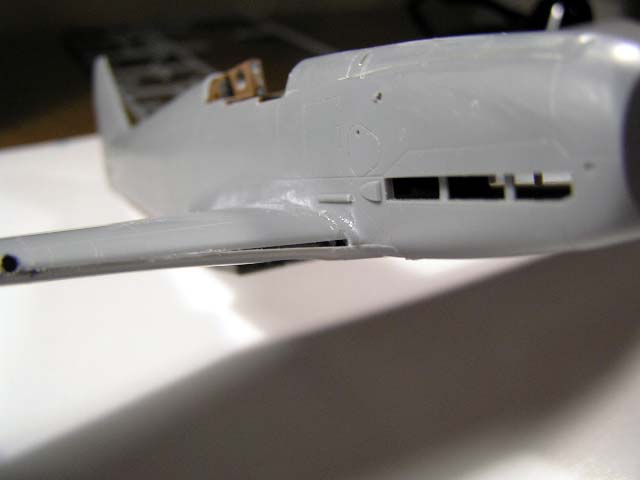 A droop in the right wing had to be addressed by means of violence and cyano. Gun muzzles were added inside the gun ports and some structural detail to the tail wheel well. In any event, all proceeded quite smoothly!


Interior
Conventional wisdom says that Hiens' interiors were painted a Sand Earth colour. Mikesh argues that, but can only provide as evidence the interior of the Ki.100 in the Cosford collection, reportedly a model restoration, which has been painted mostly in the exterior Dark Green. Some people have claimed to actually possess some Hien's cockpit small parts, reporting them to be as sandy earth as can be. Therefore, I tried to match the Light Earth color sample in Mikesh's, and decided that FS 30219 should be pretty close (he admits the colour to be found in the structure below the actual floor in the Ki.100, which was enough for me). Any one would work, but I used Polly Scale acrylic.
---

Exterior
Well, I usually shun from building "ace's mounts", so I wanted as discreet a Hien as possible. This plan was duly thwarted by the lack of decals. I had found in the kit's decal sheet a very discreet example, from 244th Sentai, overall NMF with a Red tail; it was attributed to Kobayashi, but it was a far cry from his "propaganda" Hien. However, the Hinomarus in the sheet were unusable (far too bright) so I set to find a generic sheet containing Hinomarus of the proper size, i.e., identical to those in Hase's (no, I have a genetic inability to mask and paint circular shapes) After purchasing several sheets, I had not yet succeeded, so I reluctantly resorted to the Techmod 244th Sentai sheet. By this stage I had the NMF and Red tail finish completed, using Alclad Aluminium and Dull Aluminium for the former and Xtracrylix RLM 23 darkened with a little Dark Earth for the latter, with WEM providing the Grey-Green for the ailerons and Tea colour for the prop. I started to paint the mottles, trying to follow the pattern in Techmod's instruction sheet as best as I could, using WEM's Nakajima Army Green mixed with Olive Drab. Previously, I had overcoated the Alclad with Xtracrylix Clear Gloss, in preparation for the decals that never went, and it served well in making the NMF impervious to enamel paints, allowing me to quickly erase any offending individual mottle with a light swab of white spirit. Not that I did that much often, but having the chance was pretty reassuring.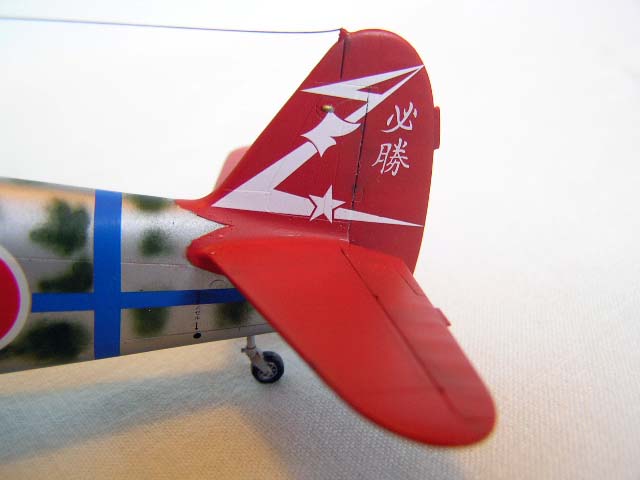 After the mottles were applied, with a Paasche VSR-90, some were lightly polished and another gloss coat applied to even them out. Weathering was achieved by applying a matt coat, which dulls the NMF nicely, and some washes of highly diluted Burnt Umber. This was kept to a minimum, given the VIP nature of this machine. Chipping of the antiglare band was achieved by a very small amount of liquid mask applied to the front and sides of it, and a bit of silver paint over panel lines.
---

Decals
There is not much in the way of decals for your Hien. An old Aeromaster sheet depicts several nice machines but most of them are short-fuselage ones. The new sheets I have seen all depict 244th Sentai machines. This Techmod sheet in particular is of the highest quality, with colour instructions and including masks for the canopy, wheels and tail (I had all those items already painted by the time it arrived!) and lots of stencils, most of them over painted by the mottles. Three machines, all flown by Kobayashi, are provided. My only complain is that a bit of spare Blue strip should have been provided, to fix gaps. I had to cover a pair of them, especially around the very problematical intake area, and matching the colour is very difficult. The decals themselves were really good, but a bit fragile.
This must be one of the sleekest, best looking Jap fighter planes. The challenge of painting the mottles freehand over the NMF was enticing and worth taking (I really did not dare do them, until circumstances virtually forced me!). I would have loved to depict a (short fuselage?) machine based at New Guinea; a friend of mine (an Aussie diplomat) told me that some sizeable relics could still be seen around Port Moresby.


- "IJAAF Aces of WWII", Osprey Publishing
- "WWII Japanese Aircraft Interior", Robert Mikesh, Specialty Press publishing.
- "Ki.61 Hien", Aero Detail

Click on the thumbnails below to view larger images:
[../../photogallery/photo00010299/real.htm]
---
Mode, Text and Images Copyright © 2007 by Fernando Rolandelli
Page Created 25 June, 2007
Last Updated 24 December, 2007
Back to HyperScale Main Page