Hasegawa's 1/48 scale
Junkers Ju 87 B-2 Stuka
by Charles Whall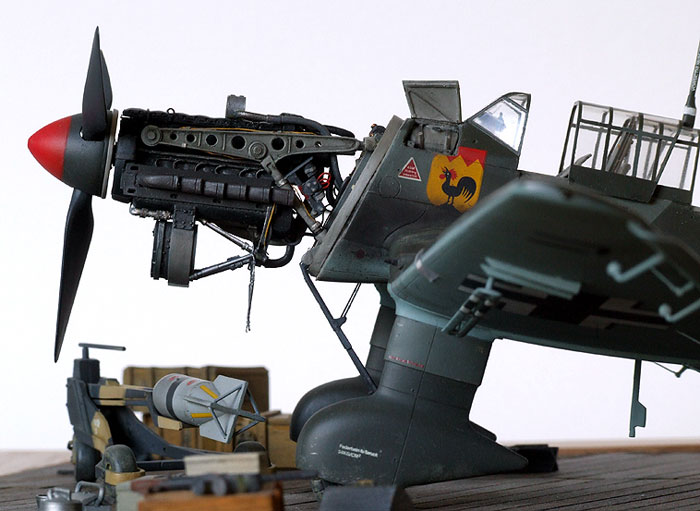 Junkers Ju 87 B-2

Hasegawa's 1/48 scale Junkers Ju 87 B-2 Stuka is available online from
Squadron.com
This is the 1/48 scale Hasegawa Junkers Ju 87B-2 representing a Stuka of 2./St.G 77 based in Caen, France during August 1940
I have always been fascinated by the Stuka, especially the Battle of Britain period, and have wanted to build one for a long time but was never really sure what to represent, until I discovered this one. Shot down by my namesake Sgt.Basil Whall of 602 Sqn 18th August 1940, S2+UN force-landed on Ham Manor Golf Course, Littlehampton, Sussex.
The pilot, Oberfw Geiger, was killed and Oberfw Schweinhardt was captured.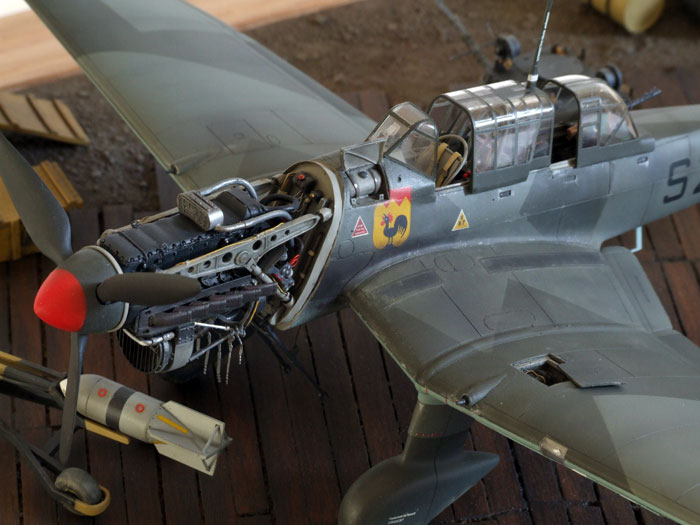 This was just one of 17 Ju 87's lost that day.

Additions/Reference
Aires cockpit and engine set.

Eduard photoetch set

Verlinden & Hasegawa Luftwaffe airfield sets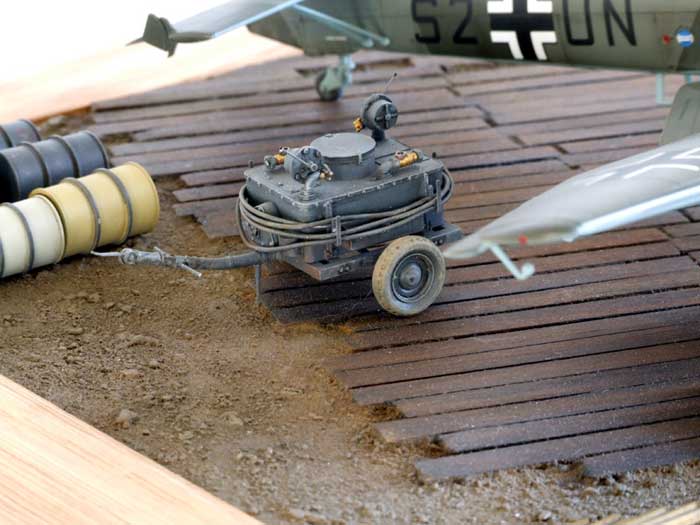 True Details weighted wheels

Classic Colours, Luftwaffe Colours, Stuka volume 1, Luftwaffe Ju87 Dive-bomber units 1939-1941, Peter C Smith
---

Modifications
I decided to go to town on this one, as there are a lot of aftermarket accessories available for the current kit

The Aires engine set is meticulously detailed with firewall, engine bearers and other equipment. I added a lead solder wire of varying sizes for the plumbing behind the engine making it look 'busy' and looks very realistic once complete.

The kit also kit includes a wing armament set which I found quite easy to add by thinning the relevant wing area and adding the photoetch square to the back of the opening before fitting the resin part. I added a small amount of wiring to 'lift out' the detail.

The cockpit went together very well with no problems and I decided to spruce it up with some extra 0.2mm wiring from Plusmodel-not necessary really as most of it is invisible once the fuselage has been constructed! Once the cockpit was finished, I added thin strips of styrene rod for the canopy rails. I added wiring to the radio and gunner compartment.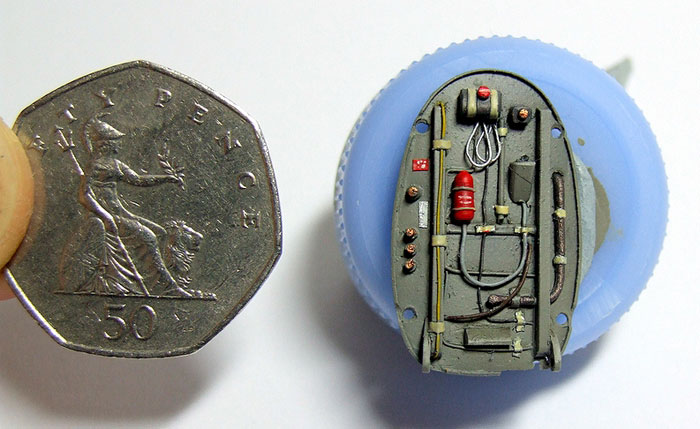 Click the thumbnails below to view larger images:
[../../photogallery/photo00027037/real.htm]
---
The flaps were improved by removing those hideous plastic triangles that attach them to the wings and added the Eduard actuators-quite time consuming but worth it in the end. I cannot remember how many times I snapped the flaps off while handling the model!!

Other details: The resin bomb support was enhanced using some brass wire to represent actuator rods. The Pitot tube was made using two gauges of 'telescoped' brass rod. Antennae wire made with a hair donated by my fiancé (from her head BTW!)-Chinese hair is the strongest in the world apparently and perfect for antennae!

I used a lot of Verlinden bits and pieces including their airfield set with all the boxes spanners etc. The oil bowser (?) is a fantasic little set and really adds to a Luftwaffe diorama.
The bomb trolley was from the Hasegawa Luftwaffe ordnance set and much more to scale (IMHO) than the CMK offering which seems far too small (and delicate!).
Other diorama parts were from Tamiya and some were scratch-built.

I scratch-built the hardstand using wooden coffee stirrers, the groundwork is earth and MIG pigments (which are wonderful!!).

The base is a bit busy but I just wanted to showcase all the aftermarket bits!
The Battle of Britain camouflage is standard Luftwaffe splinter scheme of RLM 70/71/65. The cockpit is painted RLM 02, all done with various acrylics (Tamiya, Aircraft Colours etc) and applied using my Iwata HP-B airbrush. I do like the pre-shading effect some models but it was lost on mine after application of the upper scheme, and I actually preferred the final finish which is much more subtle and just enhanced slightly with some highly thinned black-brown mix.

General weathering to the wings, walkway areas was done with a dusting of Tamiya and MIG pigments (I LOVE this stuff!!) and scuffing was done using a Prismacolour silver pencil.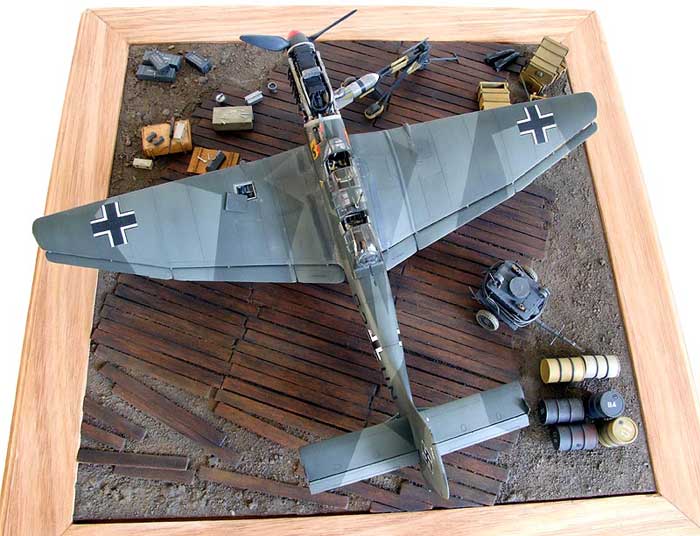 To create a metallic sheen to the engine and MG 17, I lightly dusted graphite powder using a cotton bud (Q Tip)-I find this is great for creating a realistic steel finish. I also used some on the fuselage and wings to create a metallic sheen. Canopy was dipped in future and masked with the brilliant Black Magic masks.

The Aeromaster decals settled down beautifully with a minimal amount of Microset/sol. Finished with a flat coat of Matt/Satin mix.
---

Photography:
Fuji Finepix 9500S using a sheet of white card as background and just experimented until I was happy with the results.

Click the thumbnails below to view larger images:
[../../photogallery/photo00012128/real.htm]
---
Model, Text and Images Copyright © 2007 by Charles Whall
Page Created 19 June, 2007
Last Updated 24 December, 2007
Back to HyperScale Main Page