This is Fujimiís 1/48 Bf 110 C/D finished as the mount of Hans-Joachim Jabs of II/ZG 76, summer of 1940, just before the
Zerstorersí
fall from grace. I was inspired by Fujimi builds by Brett Green in his Osprey Modelling book, and Matt Swan on his website.
Aftermarket items include:
Squadronís vac-form canopy, to avoid the armoured windscreen

Lone Star Modelís resin cockpit. In addition to its other advantages over the kit cockpit, it enabled me to place the sidewalls a couple of millimeters proud of the fuselage cockpit lip, permitting more positive seating for the vacform canopy.

Airesí MG 15 and 17s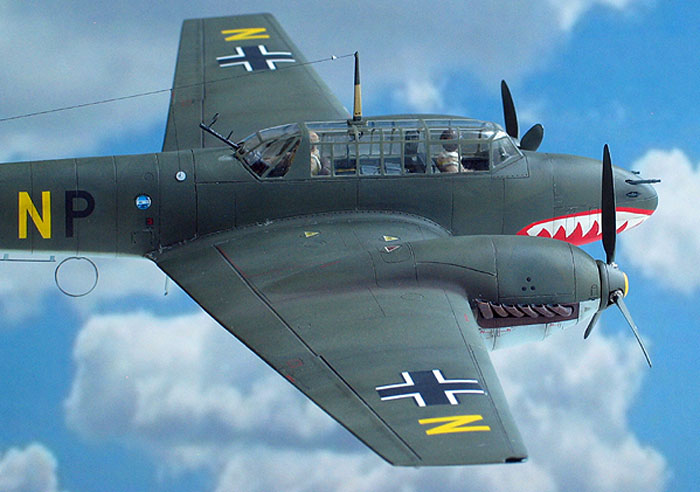 Eduardís photo-etch, useful mainly for the radiator bays and extra cockpit details

Ultracast Bf 109E spinners and props: the spinners were 1-2 mm too large in diameter for this kit, and had to be ground down to fit the nacelles.

Hobbydecal dry transfers

Moskit exhausts: although they cost as much as the kit itself, what aircraft is more deserving of these little gems?
The pilot is a resin re-pop of Tamiyaís A6M2 pilot, heavily modified (he turns up in a lot of my builds) and the bordfunker is a leftover Verlinden USN pilot, again heavily modified, with plumberís epoxy parachute pack.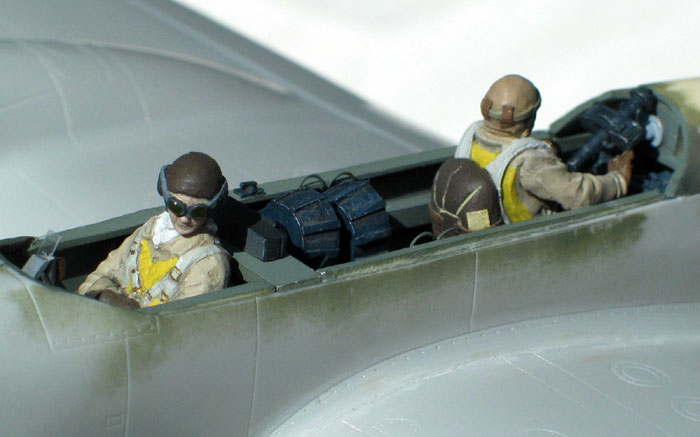 The tail wheel is a modified Eduard 1/48 P-39 nose wheel, as the kit wheel is noticeably tiny. FuGI 2F antenna is scratchbuilt, as is the port wing landing light.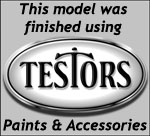 Paint
Paints are Lifecolor RLM 70 and 71, with my own mix for RLM 65 consisting of Lifecolor Non-specular Blue-Grey mixed with White at a ratio of 3:7. Finish is Polly Scale Flat mixed with Satin at a ratio of 2:1.
Weathering was achieved with Tamiya mixes thinned to around 95% isopropyl alcohol , minimal pastels, and a silver artist's pencil.
---
Markings
Decals are Techmod, but underwing balkenkreuz, all "Nís" and the haifisch mouth are all masked and sprayed. The shark mouth masking was built up in layers of Tamiya masking tape cut to shape. This was done by applying tape to an overhead projector acetate transparency onto which Techmodís (not quite satisfactory) shark mouth decal had been photocopied. By using multiple copies, I was able to cut out the shapes needed to get the result I wanted, and the tape still had plenty of stick after being removed from the acetate for application to the model.
Having a copy of the kit decals on overhead acetate was useful in another way. I suffered some random severe silvering on a couple of the fuselage code decals that I couldnít fix. I used the same method to cut out exact masks of the offending codes, and could then touch up the RLM 70 and 71 around the letters by airbrush, covering the silvered areas. (I have in the past used tape to remove decals, both intentionally and alas unintentionally, so I knew enough to temper the tackiness of the masking tape with a brief application to my forehead). This serendipitous experience has me thinking I should make acetate copies of decals before all my builds.
In retrospect I wish I had:
sat Hauptmann Jabs six scale inches further forward. I find one of the most challenging parts of building in-flight is the trial and error process of getting your custom-made figure to fit the cockpit in a realistic position matching photo evidence.
confirmed the spent casing chute arrangement on the ventral nose more thoroughly. This was the best I could determine from scant photographic evidence.
opened up the bordfunkerís canopy hatch, however as it was there were already stages of the build where I felt my ambition over-reached my ability. ("As you know, Iíve always thought we tried to go a detail too far")
The after-market additions effectively quadrupled the price of the kit, but if it keeps me occupied for six months, thatís still pretty cheap entertainment!
Photos are taken in overcast sunlight, in front of a cloudscape poster (obtained from www.zazzle.com Ėlots of choices); prop-spin is done the low-tech way with a hair-dryer.
Iím a long way from a model club (you lot are it!), so any feedback positive or negative is welcome, and I donít mind either variety being posted on Plane Talking. Thanks for looking.
Glen "Iím Not Waiting For Eduard" Percy