Hasegawa's 1/200 scale
AC-130 Hercules
by Patrick Hawkey
AC-130 Hercules

I built this Hasegawa 1/200th AC-130 straight from the box in June of 2003 at the request of the owner of my (then) local hobby shop. I didn't own a digital camera at the time. I do now and borrowed the little cutie back for a proper photo session.

For those that equate small scale with small job or somehow easy, try making one look "realistic." I remember how tricky it was to get those tiny propellers off the sprues in one piece for starters. Alignment of things gets progressively more critical as the overall size decreases.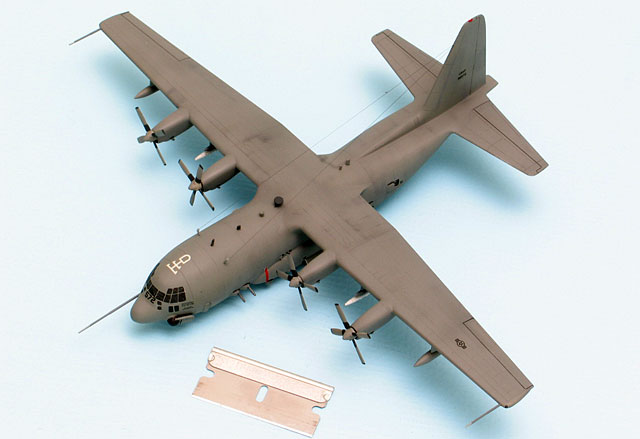 The smaller the scale gets, the less convincing clear styrene parts look to me. (If you insist on interior detail, skip this part of the story.) I made no attempt to keep the clear parts clear and treated them like the rest of the skin of the airplane. Having a 72nd C-130 in the stash, I laid masking tape over the window area and traced all the rectangles with pencil. I pulled the tape off, laid it flat and filled in all the windows with black then scanned that on my computer. I sized that down to 1/200th and printed the window pattern on clear decal stock. Almost instant windscreen. I did not try to pick out the individual rectangles with Future or gloss back paint after the final flat coat, so it has that going against it. However, if the choice is mask all those little clear windows precisely enough to compare with my flat black decal, I'll take the decal.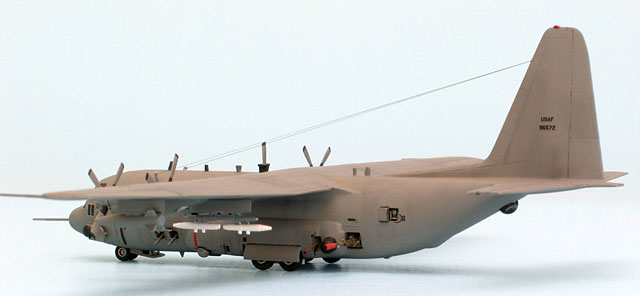 The job was also an interesting journey into the phenomenon of scale effect on paint. What shade of gray looks like FS 36118 in 1/200th scale? Had I put on what the color chip says 36118 is, I'd have had something nearly black. What is nearly black are all the decals (besides the prop warning stripe.) I think they could use a bit of scale effect too, but that's in the way too hard department.

Click the thumbnails below to view larger images:
[../../photogallery/photo00014633/real.htm]
---
Model, Images and Text Copyright © 2007 by Patrick Hawkey
Page Created 30 August, 2007
Last Updated 24 December, 2007
Back to HyperScale Main Page