Accurate Miniatures' 1/48 scale
A-36 Apache
by Bob Aikens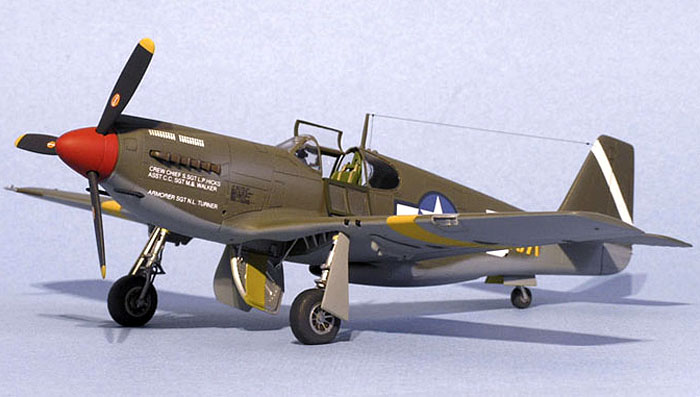 North American A-36 Apache
HyperScale is proudly supported by Squadron
It was 'thin-out-the-stash-time', and the Apache's number came up- I got it and the Acc Min Il-2 from a Squadron sale 7 or 8 years ago, and recently they had been staring at me quite intensely... I did their P-51B and knew what to expect: surface detail second-to-none, good fit and alignment, but clear parts [at least on this kit] with a sort of internal graininess to them-polishing and Future help, but they still remain inadequate.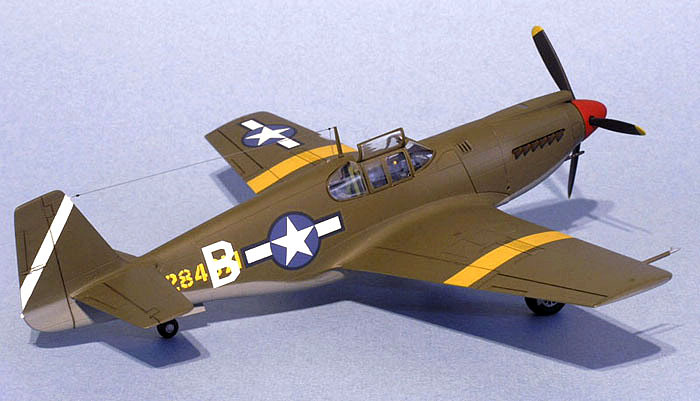 The decals in this kit (a single aircraft) are neatly printed and in perfect register-the film might have been a bit thinner, but they very, very usable.

*The Stormovic remains languishing on the shelf.
The original rationale for building the model in component fashion was because I needed an opening to insert a holding device (usually a piece of dowel) to facilitate painting- the nose section wouldn't do because of
the spinner set-up [could have worked around that, but why make trouble for yourself, eh?] ..So I thought (and you know what thought did!) "I'll leave off the nose section, make sure it fits near perfectly, and slip a holder up through
the cockpit"....but the cockpit set-up that I'd spent a lot of time getting right was obviously not going to allow me to do this!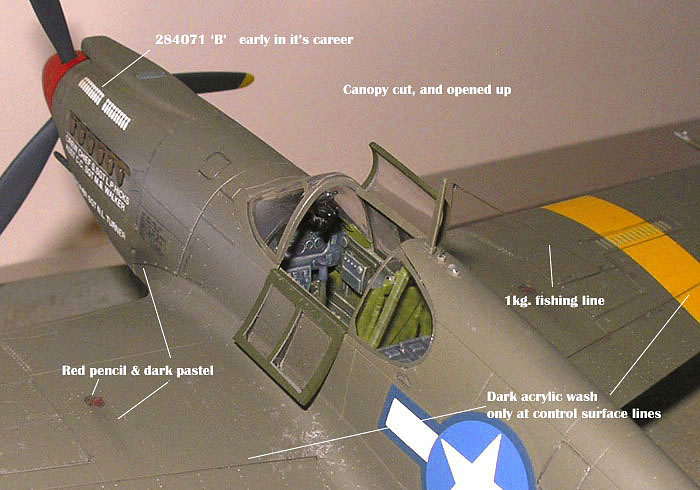 I quickly went to 'Plan B'- a stick of basswood up through the [radiator] vent. The original failed stratagem also had me leaving out the instrument panel for retro-fitting (easy enough). Humbled by having once more out outsmarted myself, I continued...
Once painting started everything began to go much more smoothly.
The kit decals went down well over a surface of Tetsor's Glosscote 1261 which, if let dry properly, is very durable to setting solutions.
Click the thumbnails below to view larger images:
---

Finishing Touches
Additions to the basic kit are brake lines, antenna wires and Eduard seat belts. In retrospect the only real problem was the clearness of the canopy. Overall, I was quite happy with the way the project turned out.
---

Pictures- [Olympus C-5500 Zoom 5mp]
The digipics presented here have been adjusted for brightness/contrast and for color balance as I'm forced to use a combo of natural and halogen lighting.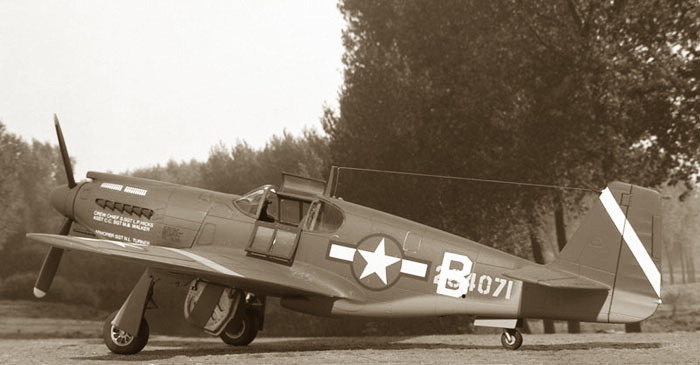 The model is as you see it- not touched up or augmented in any way by PhotoShop manipulation.
Click the thumbnails below to view larger images:
---
Model, Images and Text Copyright © 2007 by Bob Aikens
Page Created 19 July, 2007
Last Updated 01 January, 2008
Back to HyperScale Main Page